Saying goodbye to a
GOOD

leader
Hundreds show up to reception to bid farewell to Carol Gonzales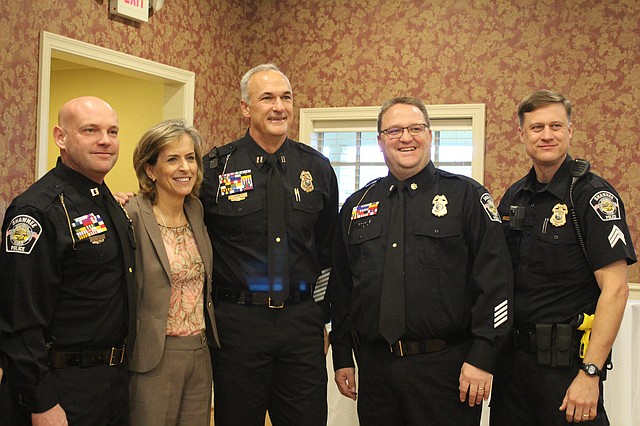 "Good starts here with you" was a sentiment echoed numerous times during an emotional video played at recently resigned Shawnee city manager Carol Gonzales' goodbye reception last week.
Playing off the city's slogan, city staff bid farewell to the long-time city manager and thanked her for all her hard work.
"You genuinely care about people, the employees of the city, their families, our business community and the people who live here," said deputy city manager Vicki Charlesworth at the reception. "You're not concerned with building a city, you're focused on building a community."
Gonzales' last day on the job was Nov. 15.
She resigned from the position to become the director of finance and administration for the Mid-America Regional Council.
Charlesworth was recently selected by the city council to act as interim city manager until the position is filled.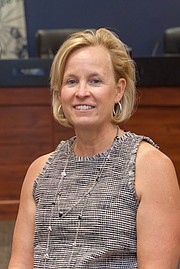 Gonzales joined the city of Shawnee's staff in December 1998 and was promoted to city manager in 2005.
At her reception on Nov. 15 at Shawnee Town Hall, several city employees offered Gonzales hugs, gifts and verbal appreciation.
Charlesworth added during her speech that the city of Shawnee is a better place because of Gonzales' leadership.
"Over the years, you've had many opportunities to do what was easy, but instead you always chose to do what was right for the community, for the greater good, for us," she said. "You gave us tools whenever we needed to be successful and for this you've earned our respect."
Charlesworth said it was both a sad and happy goodbye, because while many city staff members will miss working with Gonzales, they're proud she is going to serve the broader community at MARC, which is a nonprofit association of city and county governments and the metropolitan planning organization for the bistate Kansas City region.
Liz Barnard, human resources director for City of Shawnee, said when she asked city staff to use one word to describe Gonzales, words were brought up like, 'supportive,' 'motivating,' 'fair,' 'caring,' and 'dedicated.'
"Carol is the type of leader I think every organization aspires to have," Barnard said. "She has vision, she's innovative, she respects and encourages professional development and participation at all levels. She is the consummate professional.
"Carol takes a great deal of pride in leading by example."
When she took the podium, Gonzales said she was overwhelmed by the kind words from her peers.
"I've been blessed to do work that matters, work that really makes a difference every single day," she told the large crowd, which included city staff, current and former elected officials and her family. "So tonight for me, this is about my gratitude for so many people who have allowed me to do that."
She said that Shawnee has always felt like a small town because of the warmth of the people and how neighbors help each other.
Gonzales added she's been grateful to work with a staff of caring people who strive to keep the city of Shawnee safe and beautiful and functional.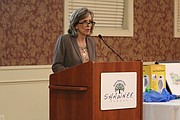 "I never get tired of hearing the stories about the work they do," she said. "I could go on and on about all the great things and the meaningful service they provide. But what I love most is not what they do, but how they do that work."
She also expressed her appreciation of all the elected officials who have served Shawnee during her tenure, stating she respects their hard work when it comes to making important decisions for the community.
"Thanks to all the good councilmembers I've worked with, who many I now call friends," she said. "We know very well that we are just staff and without those leaders, we can't get anything done. They sit in the really big seats for the community. Each of you, thanks for stepping up and serving this community."
She ended her speech with a few words about how "good starts here" came to be.
During the branding process, Gonzales acknowledged that many people questioned the word 'good' and wondered why not 'great' instead.
After all, they asked her, didn't it undersell the city?
And Gonzales would tell them absolutely not.
"In these times, goodness is the greatest thing a community can give and it is the essence of what Shawnee is," she told the audience. "It has been a blessing to work in this good community."
While Gonzales is leaving her position on city staff, she is not leaving the city.
She confirmed to the Dispatch during her goodbye reception that she will continue to reside in Shawnee and she has no plans to move any time soon.
Since last week, Charlesworth has been the interim city manager.
Charlesworth has worked for the City since 1988 and has served as Deputy City Manager since 2012.
She will hold the position until the city council selects a new city manager next year.