Expectations remain high for St. James boys swim and dive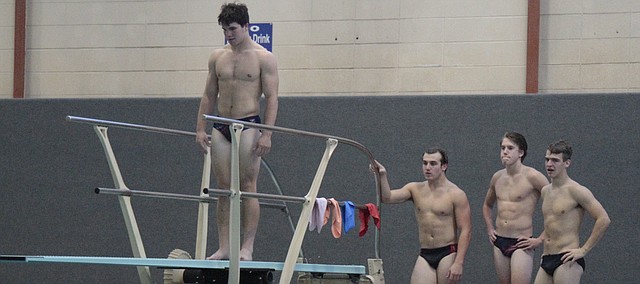 After tying for second place at the Class 5-1A state meet last season, the St. James Academy boys swim and dive has high expectations again for the 2017-18 campaign.
With a few solid senior swimmers, a strong group of divers and a cast of talented underclassmen, St. James coach Kellee Hercules is excited to see what the season holds for the Thunder.
"We've got lots of guys," Hercules said. "We probably have like 35 guys — four divers. That's always exciting."
Highlighting the returners for the Thunder is senior Nick Callahan, who won a state title last season in the 50-yard freestyle and also placed fifth in the 100-yard freestyle. Callahan and fellow senior Zach Kurland have provided some solid leadership for the Thunder in the first few weeks of practice, as they've done their best to set a good example for the incoming freshmen.
"We have a lot of really young talent, which is good. There are a lot of really young guys that look up to us," Callahan said. "I think they're really excited for this year and they still have so many opportunities going ahead."
Hercules is expecting fast times this season from freshman J.T. Amrein, and believes that the sky is the limit for sophomore Harry Tjaden and several of the Thunder's other underclassmen as well. Tjaden placed fourth at state in the 500-yard freestyle.
"My freshmen from last year just came back so much bigger and stronger, so that helps immensely," Hercules said. "It's just a nice thing. They're a great group of guys."
While the Thunder lost a key piece of their relay teams in St. Louis University freshman Andy Maginn, Hercules believes that the expectation that he helped set has rubbed off on Callahan and the other returners.
"It shows that if you work hard, you will do well. He (Callahan) shown that," Hercules said. "Every year he has gotten better and gotten stronger. He never misses a practice.
"Zach Kurland swam offseason. He's a senior this year. He'll be going to state probably because he's really worked hard. That's just really exciting."
The word "exciting" summed up Hercules' thoughts on her four senior divers — Jack Petz, Spencer Burkard, Zack Rodina and Kane Feldman. Petz and Burkard placed third and eighth, respectively, at state in the 1-meter dive last season, and Rodina also has experience from the state meet after qualifying as a sophomore.
"It's really important because when you go to EKL and state and you can have four guys diving in an event, that's huge," Hercules said. "You're going to get a lot of points. We're really excited about that."
The Thunder will kick off their season at 4 today at Blue Valley Southwest in a quad against the Timberwolves, St. Thomas Aquinas and Bishop Miege.