Face to Face: Josh Kiene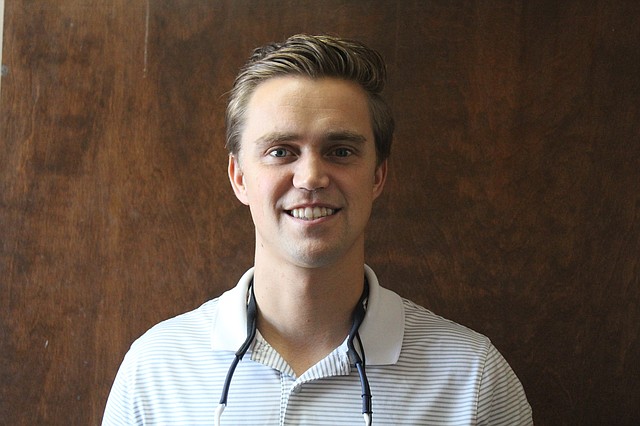 Name: Josh Kiene
Born: Merriam
Family: Wife, Bridget; 2-year-old son, Cooper; 8-week-old son, Bode; golden retriever, Bo
Occupation: Dentist
Dream job as a kid: Dentist
Digging deeper: He's walking in the footsteps of his father and grandfather, and Kiene couldn't be any happier. The 28-year-old is a third-generation dentist at Kiene Dental Group, 11005 W. 60th St. His late grandfather, James Kiene, started the practice in 1956, and his father, Pete Kiene, joined in 1986.
After graduating from dental school at UMKC in May, Kiene joined the practice this summer. His wife, Bridget, is also a dental hygienist there.
"I never felt I was pushed towards dentistry, it was a very natural decision," he said. "I'd been around it my entire life. I saw the difference my dad made in other people's lives, and how he always went the extra mile to help people feel at home, and I wanted to be part of that kind of positivity."
Although he's a new dentist, Kiene is no stranger around the office. He used to hang out with his dad there when he was little, plus he even worked as his dad's assistant while in college.
Summers often found him sitting chairside with a suctioning tube or performing odd jobs around the office.
The coolest part about joining his family's dental group is interacting with patients who have been getting their teeth cleaned there for 30 to 40 years, he said.
"It's awesome to carry on the legacy and hear the stories they (patients) have about my dad and grandpa," he added.
Plus, he enjoys seeing his family around the office.
While working with a spouse and parent may drive some people nuts, Kiene insists with a laugh his situation is just the opposite.
"We're not constantly on top of each other at work," he assured the Dispatch, with a grin. "It's work but it's also an opportunity to bond. It's fun being able to talk about similar things."
And even though he loves his job, it doesn't come without challenges.
"It's stressful sometimes and it is hard work," he said. "I don't get a lot of breaks and it is physically and mentally challenging. But it's a very rewarding profession, so it's a balance."
The typical business hours of dentistry allow Kiene to be a dad and enjoy family time, which makes him grateful.
When he's not busy being a dentist, he enjoys catching up on Kansas City sports and of course, raising a toddler and newborn with his wife.