First-year coach Ryan Lee looks to get the most out of
SMNW

boys swimmers, divers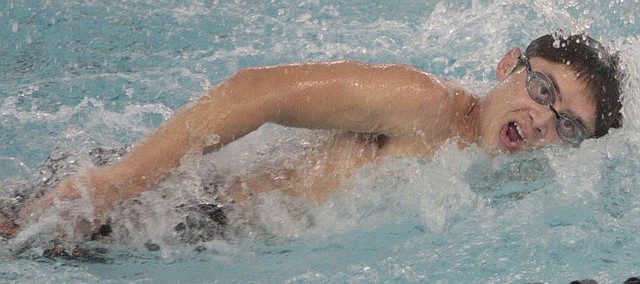 In his first season of directing the Shawnee Mission Northwest swim and dive program, first-year coach Ryan Lee has been firm to his athletes that he doesn't expect anything other than their best at each meet and practice.
At the end of Monday's practice, Lee told his swimmers to do a better job of mentally preparing for their time trial on Tuesday since he was discouraged with how they geared up for the one they had before Thanksgiving.
"It's going well," Lee said. "Kind of the main goal that I'm trying to do is change the culture and re-establish Shawnee Mission Northwest as one of the top teams in the state. It's been a little challenging, but we're starting to make some strides in the right direction."
The Cougars' top swimmer from last season will return in Scott Klein. The sophomore standout has been impressed by how Lee has pushed the Cougars to the limit so far in practice.
"He's taken it to the next level," said Klein of Lee. "He's done a really good job of keeping a high intensity with really good workouts."
Klein placed 14th in the 200-yard freestyle and 20th in the 500-yard freestyle at state last season, but with the help of some of Lee's high intensity workouts, he believes he can excel in some of the shorter events this winter.
"I'm hoping to break the 50 freestyle record here at the school and possibly placing on the podium at state for the 50 or the 100 (freestyle)," Klein said.
Klein and Ben Harrell will both return from last year's 400-yard freestyle relay team that placed 20th at state. Will Gross and Will Vandenbos are both expected to be prime candidates to complete the Cougars' relay teams.
"The main thing is that hard work will be celebrated," Lee said. "I know there are some guys with some good talent here, but talent will only take you so far. When you incorporate hard work with your talent, good things will happen."
With the Cougars' first meet of the season coming up at 4 p.m. Tuesday at Mission Trail Middle School, Lee is excited to see if the precedent that he has tried to establish at practice will carry over to their races.
"Kind of establishing some toughness," Lee said. "One thing a coach can't do is coach heart, so I'm giving them opportunities to be tough and swim with heart. That's one of the biggest challenges I have to do here."

More like this story