Good leadership in place for
SM

North boys swim and dive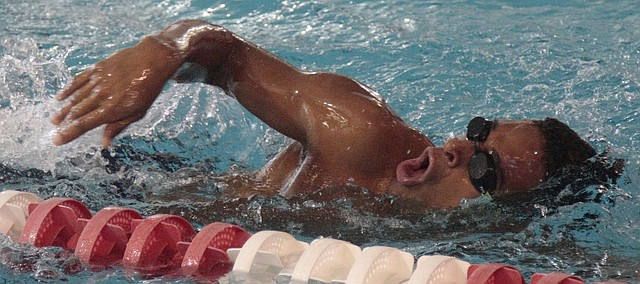 Overland Park — While practice officially started for the Shawnee Mission North boys swim and dive team in the middle of November, a few of the Indians' top returners knew they had to put some work in well before that in order to be ready for the season.
Head coach Cody Fothergill has started to see the offseason efforts of his swimmers in the first three weeks of practice, and believes that they'll be rewarded for it once they start competing in meets.
"We had a few guys who swam for about a month with the (Kansas City) Blazers' preseason conditioning. So a few guys came in in a little better shape," Fothergill said. "Then we've got a couple with Swim Academy, so they're definitely in shape. We didn't start off slow."
Although the Indians lost Carter Jacobson to graduation last year, they'll return a large contingency of the swimmers of competed on their three relays last year — including Clayton McMillan, James Cameron, Rowan Jones and Trey Smith.
"I've been working a lot in the offseason. I've been doing a lot of strength conditioning and swim specific stuff," Cameron said. "I've been working with some college coaches as well and talking to them through NCSA (Next College Student Athlete), which is a recruiting website. I'd have them send me their main sets or whatever in their weight training."
While Cameron did a lot of training on his own during the offseason, McMillan and Smith had impressive showings with their respective club teams. McMillan and Smith joined Jacobson in qualifying for state in individual events last season, and are aiming to do the same this winter. McMillan placed 20th in the 100-yard breaststroke, and Smith finished 24th in the 100-yard butterfly.
"He (McMillan) had a pretty good fall of swimming and did pretty well at a meet with Swim Academy, so he'll be really strong. Trey Smith had a good summer and he swims with the Blazers," Fothergill said. "It's just kind of piecing together those fourth and fifth and sixth guys for some of those relays. I'm confident that we certainly have enough to get the relays to state and some individuals also."
Fothergill has been working a lot in practice with the returning swimmers, but he's been impressed by the newcomers as well.
"Coach (Jackie) Haines does a great job with the brand new swimmers, so they're getting up to speed pretty quickly and I feel like we've worked really hard. The guys have been motivated," Fothergill said. "They've been excited to be here. You would hope that would be the case the first week, so they've done a great job."
Between what the first-year swimmers have learned from Haines and what they've observed from the work ethic of the returners, Fothergill said that the environment has been great in practice. The Indians will take their high morale into their season opener, which will take place at 4 p.m. Monday at SM East.
"We've got quite a few seniors, probably about 10 seniors so I'm excited for their leadership," Fothergill said. "That's one thing we're going to try to instill a little bit more this season is verbal leadership from the top. Not just getting on each other, but just talking about the season and where our positives have been, where our negatives have been and what we need to do to continue to grow."