Mill Valley, De Soto swim and dive prepare together for upcoming seasons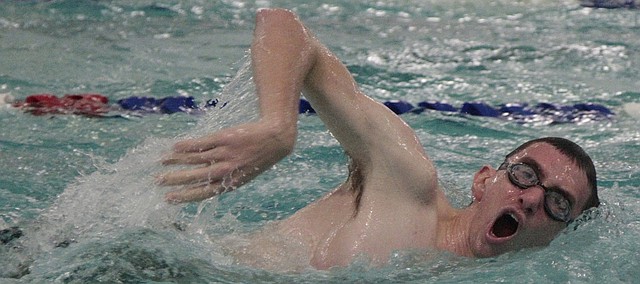 While practicing together at Indian Trail Middle School, the Mill Valley and De Soto boys swim and dive teams have treasured their time in the pool together to get ready for their respective seasons.
"We want to establish not only just a routine, but a level of intensity. We have to take advantage of every single practice," Mill Valley coach Dan Dervin said. "I think I told them Day One to remember the number 46. We have 46 practices until EKL (the Eastern Kansas League meet for Mill Valley). Other schools, I won't mention names, but they're doing two-a-days so we've got to compete against that."
Dervin is coaching a young Mill Valley squad that lost two talented seniors in one-meter diving state champion Mitch Willoughby and 50-yard freestyle and 100-yard butterfly state medalist Garrison Fangman, but the Jaguars still have a strong nucleus with junior Chris Sprenger and sophomores Colby Beggs and Ethan Forristal.
"So far, so good. We've got a lot of new faces," Dervin said. "(We have) a lot of inexperience, but tons of enthusiasm. The older guys as well as the returning sophomores have been really good examples for the new guys. That's been nice."
Sprenger joined Fangman in medaling in two events at state last year after placing fifth in the 200-yard IM and 100-yard breaststroke. While Sprenger has set high goals for himself personally in both events, he has a team- first mindset in regards to this season.
"We want to qualify all of the relays (for state) this year," Sprenger said. "That's our main priority."
De Soto finds itself in a similar situation to that of Mill Valley after losing a few impact seniors while still returning a few up-and-coming underclassmen. Senior Andre VanMeerhaeghe has taken a leadership role for the Wildcats. VanMeerhaeghe joined graduated seniors Jarod Blazo, Cameron Webb and Jason Leuenberg on the 200-yard medley and 400-yard freestyle relays last year at state. Both relays set school records.
The De Soto senior is looking forward to see how De Soto's relay teams will perform this year with the likes of his brother Ayden VanMeerhaeghe, Andrew Blazo and Curt Baker.
"Everyone is excited to see what they can bring to the first meet," Andre VanMeerhaeghe said.
Andre VanMeerhaeghe started off his senior year with a bang by finishing 48th at the state cross country meet in the fall. VanMeerhaeghe is excited about the challenge of dropping time from meet to meet in the pool as well.
"It's good," he said. "Running definitely helps, but it's still hard trying to get back into it."
De Soto and Mill Valley will be begin their seasons at noon Saturday at Lansing.