Competitions fuel
SMNW

girls hoops during preseason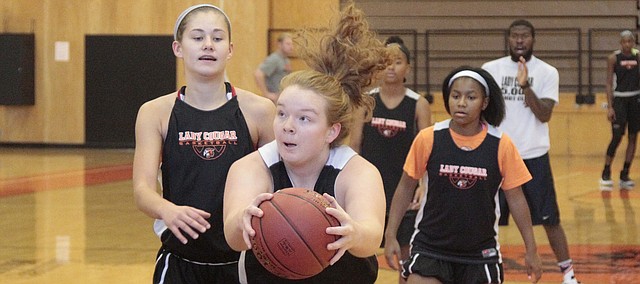 While the Shawnee Mission Northwest girls basketball team will look to utilize seniors Jordann Nachbar and Sarah Petersen and junior Hannah Black in the post throughout this season, they are far from the only ones who have shown a great deal of physicality for the Cougars in practice.
The three returning post players headline most of the Cougars' varsity experience from last year, but they've been pleased with the effort in practice from the guards who are vying to make an impact this season.
In the first practice during the week of Thanksgiving break, the Cougars started a tradition called, "Keeper of the Sledge." The honor goes to the player who best demonstrates the team's core values on and off the court, and is picked by the seniors and SM Northwest coaching staff. Junior Megan Hanson was the first player to earn the honor, and was responsible for bringing the Cougars' new sledge hammer to practice and team meetings last week.
"It means a lot," Hanson said. "I appreciate that were rewarding me for my hard work. It makes me feel like part of the team, so it brings us all together."
The Cougars were already looking to replace their point guard from last year in graduated senior and Ottawa freshman Emmalee Rose, but the backcourt was dealt another blow when Megan Nugent went down with an injury. Nachbar was excited to see someone with a similar skill set to that of Nugent step up in practice.
"Megan got hurt and it really sucks for us a team because she's quick and she can shoot it. But so can Megan Hanson," Nachbar said. "She's stepped up been more competitive and more consistent with her shooting. It's just really good for us."
Junior Rachel Seibold also figures to get a lot of minutes after getting some playing time of the bench last year, and freshman D'asya Collier-Williams will get a shot to make an immediate impact on the perimeter.
Nachbar and Black also showcased their versatility last year with their ability to knock down the outside shot, and SM Northwest coach Tyler Stewart hopes that they can take some pressure off of the backcourt.
"I think having kids that can play multiple positions are going to make them harder to guard and allows us to be more sophisticated on offense," Stewart said.
For the most part, Stewart has been impressed by the intensity that the Cougars have played with during practice. Stewart has tried to put the Cougars in game-like scenarios as much as possible with competitions like the Keeper of the Sledge, Best Teammate, Rebound Warrior and Best Communicator awards.
"I think the kids have really bought in. The kids are really enjoying each other, which is really good," Stewart said. "That's what we want. It's been a great start of the season."
Several players acknowledged that the awards have added some extra incentive to give it their all in practice.
"We know everyone is going to try their hardest, but just to give that extra edge is what we're hoping to gain from it and I think it's really going to help us," Petersen said.
After posting a record of 14-8 last year, the Cougars will begin their 2017-18 season at 7:30 p.m. Thursday (Nov. 30) with a road matchup against Mill Valley.
"There's a lot more energy than last year," Hanson said. "I feel like we have a lot of momentum going forward since a lot of people are returning and we want to make it back to state."