Expectations remain the same as De Soto girls basketball reloads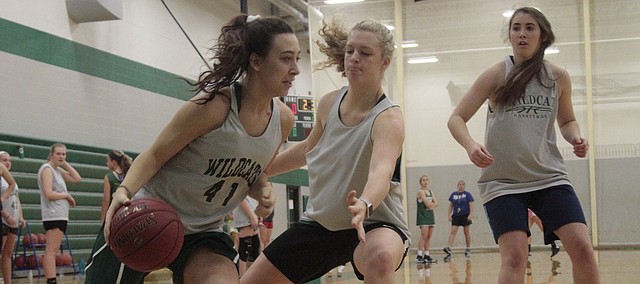 De Soto — After reaching the Class 5A state tournament last year, the De Soto girls basketball team will try to do so again this season with several newcomers.
The Wildcats, who are ranked No. 9 in Class 5A in the Kansas Basketball Coaches Association preseason rankings, will return their leading scorer and rebounder in Mariah Grizzle, as well as key reserve Mackenzie Shupe, but they're looking to replace four starters in Sydney Jones, Tanith Beal, Julia Johnson and Madison Plake.
De Soto coach Ryan Robie said that having a player like Grizzle back is crucial as a majority of the Wildcats get their first extensive action at the varsity level.
"It's kind of our little comfort blanket I guess you could say. We know what we get with Mariah. She's a competitor," Robie said. "She's been our leading scorer, our leading rebounder the last couple of years. She just does so many different things for us. This year she has kind of stepped up from a leadership standpoint. It's her team now, so that's been huge."
While Grizzle is the unquestioned team leader, she's been pleased with how a few of the other upperclassmen — such as senior Mara Montgomery and juniors Hannah Wilson and Linnea Searls — have performed so far in practice.
"I think they've stepped up a lot this past summer and we're going to need that," Grizzle said. "We need more leadership from the juniors and seniors. There's not a lot of us."
Searls and Shupe have both really stuck out to Robie in the offseason with their commitment to taking their respective games to another level.
"One of the kids for me that's made arguably the biggest jump in growth has been Linnea Searls. She's a junior this year," Robie said. "Over the summer she attended a clinic. Her and Mackenzie went to a PGC clinic and they came back different kids. They're confident, leaders, in attack mode — just so much better. So we're looking for another huge year for her."
A big key to the Wildcats' 15-8 season last year was their ability to lock down defensively. The expectations on the defensive end have not changed for Robie as a largely new pack of Wildcats get their season rolling at 5:30 p.m. Friday with a road tilt against Shawnee Heights.
"We prided ourself on our defense last year and we have a lot of kids who are in their first varsity practice ever. The intensity level and those sides of things, we've got to get better," Robie said. "This is a great group of kids and we're going to be very different. Last year we were pretty long, pretty big and physical. This year we are quick and scrappy and we're going to try to fly around a little bit."
More like this story