Experienced Mill Valley girls basketball squad ready to roll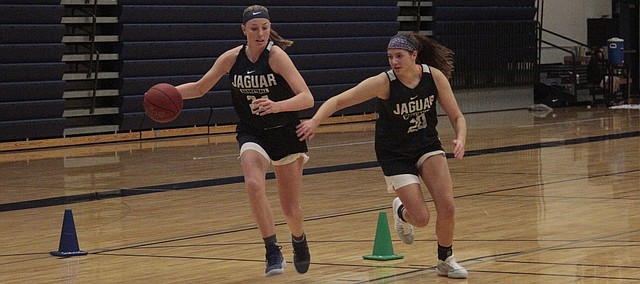 Following a .500 season last year in its first season with Drew Walters at the helm, the Mill Valley girls basketball team is a confident bunch entering its 2017-18 campaign.
The Jaguars return a wealth of experience in seniors Evan Zars, Adde Hinkle and Payton Shurley and junior Claire Kaifes, Presley Barton and Trinity Knapp, and they have some high expectations set for this season.
"It's exciting to have all of the experience because we all know what happened last year and we all know what we need to learn from it and what we want to do it now," Zars said. "Everybody just works a lot harder this year and we all get what we need to do."
Zars is fully focused on finishing her high school career with a bang after signing her letter of intent to play collegiately at St. Louis University. The Mill Valley senior will join a Billikens team that had a 25-win season last year. St. Louis owns a 3-5 record so far this year.
"When I went on the visit, I just kind of knew with the people," Zars said. "My family was all there and they all liked it. It was a tough decision, but I'm happy with the one I made."
The 6-foot-2 forward is excited to made her presence felt down low with Knapp. Kaifes also gives the Jaguars some size on the perimeter with her 5-foot-11 frame. Walters believes that his team should stack up well against the top teams in the Eastern Kansas League and the state.
"They're really excited to get going," Walters said. "We are looking forward to now understanding the level of competition that we face and having a better idea of that and going through those challenges in our season and playing some of the best teams in the state. I think they're ready to try to answer that challenge and we know a little bit more about what it's going to take to compete at that level."
Walters said throughout last season that the varsity experience that Kaifes, Barton and Knapp gained as sophomores was extremely valuable. In the first few weeks of practice, he's noticed that each member of the junior trio has developed their game immensely in the offseason.
"I think as a whole, they've all made strides where we've asked them to. This is their thing," Walters said. "They put their energy and focus in it and they do countless hours outside of what we do playing with different AAU organizations and just working on their game with other trainers and stuff like that. With those three I've seen a significant improvement."
According to the Mill Valley coach, the players who didn't play AAU basketball in the offseason returned to practice significantly better as well. He's seen them elevate their games in the first few weeks of practice, too.
"They've put in a lot of work and they've been dedicated as well. I'm happy with their growth," Walters said. "There is still a lot of room for it as a whole junior class. We're going to rely on them heavily this year."
The Jaguars, who are ranked No. 8 in Class 5A in the Kansas Basketball Coaches Association preseason rankings, will play host to Shawnee Mission Northwest at 7:30 p.m. Thursday (Nov. 30) for their season opener.
"I think it's going to be an exciting year for us and it's going to be fun to see how it goes," Zars said.