MCA

girls basketball looks to carry positive momentum into 2017-18 season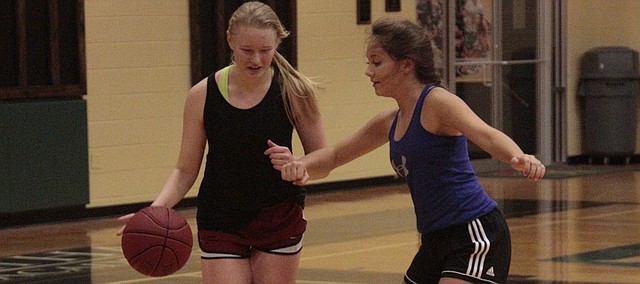 After a seven-win improvement in its first season under the direction of Reggie Hines, the Maranatha Christian Academy girls basketball team wants to keep the positive momentum rolling into the 2017-18 campaign.
The Eagles went from being winless two years ago to posting a 7-13 record in Hines' first season. Maranatha will look to build around senior forward Maggie Friesen, who was one of the leading scorers and rebounders for Maranatha last season. Hines knows what to expect of Friesen from a skills standpoint and has been impressed in practice with the example that she has set for her teammates.
"More than anything, it's about leadership. We certainly appreciate her ability to get down in the post and do some work, but just her maturity and her leadership and Emma (Prowell) as well — that's immeasurable," said Hines of Friesen. "We start there and then we work on the other stuff. Again, Maggie just has to do what Maggie does and whatever that is, it is what it is. We're going to be excited about that. I know she's going to come in and play hard."
The Eagles will have three seniors for the second straight season between Friesen, Prowell and Allison Dighton — who returns to the team after not playing last year. Friesen is pleased to have Dighton back, and adding sophomore Gina Favero into the mix.
"We've got a couple of new players — including Gina — and Allison didn't play last year so she's new to the team this year," Friesen said. "We're really excited to have some new talent and to be able to switch things up and grow when we're playing."
Friesen, Favero, junior Alyssa Buettner and sophomores Elle Bergerhofer. Anita Eckhardt and Aaliyah Buckner already found a lot of success in the gym this school year after helping the Maranatha volleyball team to a record of 26-13. The Maranatha soccer team — which includes Buettner, Eckhardt, Bergerhofer, Prowell and Meggie Abebe also posted a 10-win season last spring, and Buckner and Phoebe Hines were on the Eagles' state champion 4x100-meter relay team in track and field.
With so many Maranatha basketball players having success in other sports, they're looking to continue the trend on the hardwood.
"We're ready to come out and win some more," Friesen said. "We don't like to lose."
While Hines said that building a winning culture at Maranatha has given his team a sense of confidence, he emphasized that there is plenty of work that needs to be done in order to keep making strides forward.
"The first thing you have to do is get them in shape. A lot of them play other sports, but just like I explained to them — volleyball shape is not basketball shape," the Maranatha girls basketball coach said. "So we have to get over that hurdle first and foremost. We can just start working on some of those things that are going to be our philosophies defensively and also on the offensive end and in transition.
"It's a lot of teaching. We've still got some relatively young players. I wouldn't necessarily call our team experienced, but they've got big hearts, they work hard and they love each other. They're excited about it."
Hines' players were quick to chime in about the main thing they've been doing to get into basketball shape.
"Running," several players collectively said.
While conditioning hasn't been an easy process for the Eagles over the past couple of weeks, they've embraced the challenge to better themselves and trust Hines and assistant coaches Stan Walker and Reggie Wilcox.
"I think it's really nice especially having a returning coach to be able to know what the expectations are and just kind of jump right back into things and knowing the drills," Friesen said.
Along with getting in shape, communication has been a point of emphasis for the Eagles — both on and off the court. The Eagles credited their improvement on defense for the second half of last season to constant communication, and they want to set the tone early with the same mindset this year.
"We've been trying to get to know each other as a team better just because when you know each other better off the court, it's easier to understand what everyone is doing on the court," Buettner said.
The Eagles will begin their season on the road at 6 p.m. Monday at University Academy.
More like this story