Samantha O'Malley brings energy to St. James girls basketball program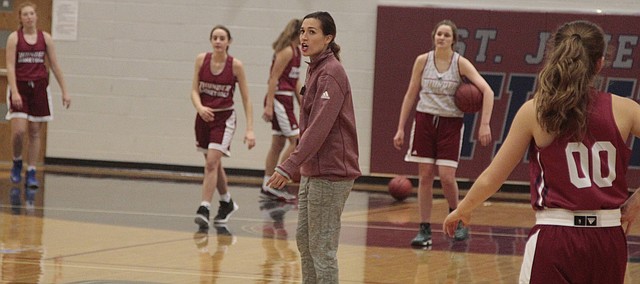 Lenexa — Samantha O'Malley became the second girls basketball coach in St. James history when she was hired last spring, and she hasn't wasted much time in getting the Thunder to buy into her beliefs as she takes over for Greg Hohensinner — who stepped down after last season.
"She's bringing in a new energy that none of us have really been used to, so it's been a great couple of weeks so far," said St. James senior Maddie Russell of O'Malley.
O'Malley comes to St. James after serving as the women's basketball coach at Andrew Community College in Cuthbert, Ga. for the last four years. The new St. James coach has been impressed by the willingness to learn from her new players. In a practice right before Thanksgiving, while the Thunder were going over a new offensive set, senior Claire Kearney asked O'Malley to briefly stop the action to make sure everyone was on the same page. O'Malley was glad that Kearney spoke up.
"It helps tremendously because a lot of times players are too scared to ask questions. My players, they want to learn," O'Malley said. "They want to get better. They want to do better than they have in the past and create a better atmosphere and enthusiasm for the women's basketball program."
O'Malley spent her prep playing days at St. Thomas Aquinas before taking her talents to the the University of West Florida, so she has a sense of what it takes to compete against some of the top-tier teams in the Eastern Kansas League.
"Communication, defense and heart. Those are the three things we're kind of going off of," O'Malley said. "Their tagline this year is 'Want it more.' So each and every day, it's remembering to do the little things and doing them the best that you can to help the team be successful in their own way."
The Thunder graduated a trio of seniors last year in Emily Kaufman, Karissa Duker and Courtney Setter, but leadership won't be an issue for the Thunder this year according to O'Malley. St. James will have three seniors again this year in Kearney, Russell and Goetz, and O'Malley has also been impressed by the example that junior Torri Kempf has set since the day she took over the program.
"With Torri stepping up in the role that she's in, she's been huge," O'Malley said. "From this summer to actually going into last spring with me finding out that I had the job to now, she's played an intricate role with organization and getting the girls together for our team building."
The Thunder will also return a few underclassmen with varsity experience in sophomores Katelyn Hall and Anna Feldkamp. The Thunder, who posted a record of 5-16 last year, will open their season against Piper at 6:30 p.m. Monday in their first game of the Eudora tournament.
"We've been working hard in practice and I really hope it's going to pay off. I think it will," Kempf said. "I just think coach O'Malley is a good asset to our team. She's really going to help us in the future."