De Soto boys basketball players full of confidence about upcoming season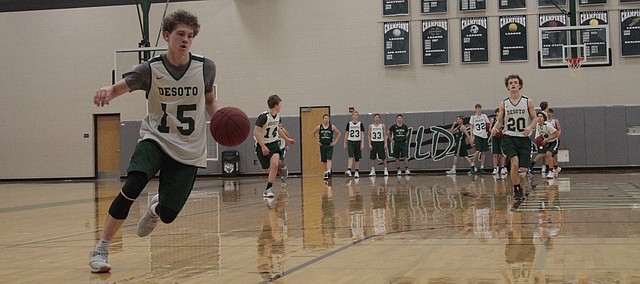 De Soto — The De Soto boys basketball team had a hard time breaking out of a midseason funk last year, but coach Matt Rice liked what his saw from his young squad toward the end of the regular season.
The Wildcats won their last two games of the 2016-17 regular season, and have returned as a much more confident squad this year.
"I think we have a good group coming back. They've been working hard over the summer," Rice said. "They brought a lot of energy into the gym the last few days. There is good, young talent coming in, so yeah, I'm pretty excited about it."
De Soto returns an experienced backcourt that features Jared Baruth, Brannon Bell and Levi Hansen. Senior Exavier Jackson also joined the trio of guards in practice after helping De Soto's football team to the Class 4A-I semifinals.
"We've been playing together — three years with Brannon and four with Jared — and we've gotten to know each other's tendencies," Hansen said. "We should be able to get some good shots off and know what each other is doing at all times."
While Hansen is confident that the Wildcats will be able to shoot the ball at a high clip this season, he said that the guards will look to feed the post quite a bit, too. Junior Grant Noll began to break through last season, but Rice believes even bigger things are in store going forward.
"From Grant, he had a good sophomore year last year. We want him to build on that," Rice said. "He got a lot stronger over the summer. We expect him to be more of a force in the paint."
Although the varsity team is loaded with juniors and seniors, the future has looked bright for the Wildcats in practice, too, with freshmen like Nate Barnhart and Wyatt Noll making their presence felt.
"We have a lot of young talent like Nate. He's 6-foot-7 and he can shoot the ball like a guard," Hansen said. "It's pretty fun to watch his ball moves and shooting ability."
Between Barnhart, the Noll brothers and junior Connor Flynn, the Wildcats have a lot of size down low. Like Jackson, Flynn missed the first week of practice while playing for the De Soto football team, but Rice said that he should add a lot of depth to the Wildcats' front court.
"Connor Flynn will come in and he has a chance to help depending on how well he plays in practice," Rice said. "He'll get pushed from behind by some young kids and hopefully he'll answer the call and do what we think he can do. He has good potential."
The Wildcats — who posted a record of 5-16 last year — will kick off their season on the road at 7 p.m. Friday at Shawnee Heights.
More like this story