Kaifes ready to lead veteran Mill Valley boys basketball team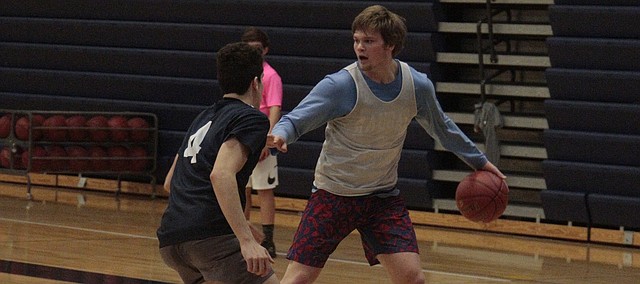 After not being able to be on the court with his teammates for the second half of his junior year, Mill Valley standout guard Cooper Kaifes has been champing at the bit to lead the Jaguar boys basketball team this season.
While Kaifes was sidelined with a broken foot, his teammates went through some growing pains. Now that Kaifes is healthy and a bulk of last year's varsity squad is returning, the senior guard believes that the Jaguars will get back on track following a 4-17 season.

"I think we'll be better than we were last year," Kaifes said. "I just think we have to improve a lot more to be where we want to be."
Seniors Brody Flaming, Ike Valencia and Mason Little and junior Logan Talley are expected to help Kaifes lead an experienced Mill Valley squad, but the Jaguars are excited about some of their newcomers as well. Mill Valley coach Mike Bennett believes that freshman forward Keshawn Mason has the potential to make an immediate impact for the Jaguars.
"He certainly has size and we expect big things from him and the expectations wouldn't be any less," Bennett said. "What's great is that he has high expectations for himself and he wants to do really well. When you pair that with him and you pair that with his energy, I think he's going to do really well this year."
Bennett has been impressed by the leadership from his veteran squad as it welcomes players like Mason. Talley, Valencia and Flaming have been able to jump right into the action in practice after missing the first week while still playing football. Bennett said that the dual-sport athletes have a sense of what to expect after being in the same situation the past two years as well.
"The expectations are set and they know that coming in. What shows is they played on Friday (Nov. 17) and they're back in on Monday (Nov. 20)," Bennett said. "You couldn't expect anything more than that because our guys are hurt, they're banged up and they're coming in they're practicing some things that not all kids would be willing to do."
One of Bennett's best players from last year has had to sit on the side at practice due to an injury suffered in the Jaguar football team's season-ending loss to St. Thomas Aquinas in the 5A sub-state championship game. Junior Tanner Moore exited the playoff game against the Saints after injuring his collarbone, and has been out of action during basketball practice.
Moore had taken on a bigger role last season following Kaifes' injury. Kaifes is excited to carry the load offensively again, and has been able to practice with a little less stress between being healthy and signing his national letter of intent to play at Loyola University Chicago.
"I'm so excited. Chicago is a great city," Kaifes said. "My visit there was just incredible. I love the culture of all the guys. I'm just ready to be in Chicago and play in the Missouri Valley league."
Kaifes will join a Loyola team that is off to a 7-1 start this season. The Ramblers posted a record of 18-14 last year.
"I think it just takes a lot of stress off of him," Bennett said. "A lot of time that he would be thinking about his decision and he doesn't have to think about it and doesn't have to worry about it. That's all done, so I think that just kind of relieves the stress of that decision and puts it behind him so he can focus solely on Mill Valley basketball."
Bennett's squad will play host to Shawnee Mission Northwest at 7:30 p.m. Friday for its season opener.