Maranatha boys basketball players have big goals in mind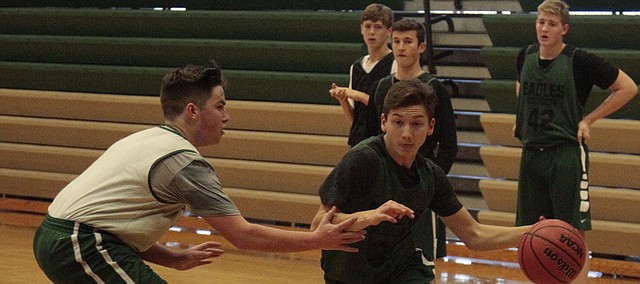 The Maranatha Christian Academy boys basketball team is loaded with experience as it looks to improve on an 8-11 record from last season.
The Eagles return several starters and key reserves from last season — including seniors Roland Hou, Mitchell Peacher and Nate Raydo; junior Jax Holland and sophomores Andrew Fortin, Jason Friesen and Brock West.
"Right now, our morale for basketball is very high. Everyone expects us to do really well and I believe that we can not only meet that expectation but exceed it," Hou said.
The Eagles scored 60-plus points in each of their wins last year, so they're well aware of the potential that they have offensively. Solidifying things on the defensive end has been the Eagles' top priority in practice.
"We're going to have bad nights shooting and offensively, but if we play good defense it usually creates better offense," Holland said. "If we're getting stops on the defensive end, it will give us more opportunities on offense."
Head coach Travis Thompson believes that good things will happen for the Eagles if they use their length and athleticism to get into passing lanes and get out in transition.
One of the players that Thompson has been really encouraged about on the offensive and defensive end has been Metro Academy transfer Jonathan Jackson, who is the younger brother of Sacramento Kings rookie and North Carolina product Justin Jackson. Thompson found out that Jackson was looking for a new school this summer from former Immaculata head coach Drew Molitoris. Thompson and Molitoris both coach AAU basketball with Kansas City-based and Nike-sponsored MOKAN organization, which Jackson also plays for.
"He's a coachable kid. He can shoot the ball extremely well," said Thompson of Jackson. "He defends. He's not selfish.
"Just to add that type of caliber of player to our program is extraordinary. It's really neat about the story of how we met, but we are blessed to have him. He makes our team go even further in the depth chart, so it's incredible."
Jackson will join the Eagles' talented sophomore class, and the Eagles have done their best to welcome him.
Fortin was in the same shoes as Jackson when he came to Maranatha last year before his freshman year, and feels much more comfortable as he prepares for his second season as the Eagles point guard.
"I'm feeling pretty good. I didn't know anybody when I first came here and they all introduced themselves and I felt really at home," Fortin said. "It felt really good to know that people had my back that didn't really know me. It really gives me momentum coming into this year. It helps a lot to have brothers behind you."
According to Thompson, the confidence that Fortin and his teammates have in each other is one of the biggest differences from this year and last year's squad. He's hoping that it will lead to the first winning season for the Eagles in 17 years.
"They believe in themselves. In years past it was like, 'Well let's just go out and do the best we can,' but now they actually believe," Thompson said. "They've got the talent. They can win. There's a coach behind them that believes in them, so it's neat to see them have that confidence but have humility at the same time."
More like this story