New-look St. James boys basketball team excited for upcoming season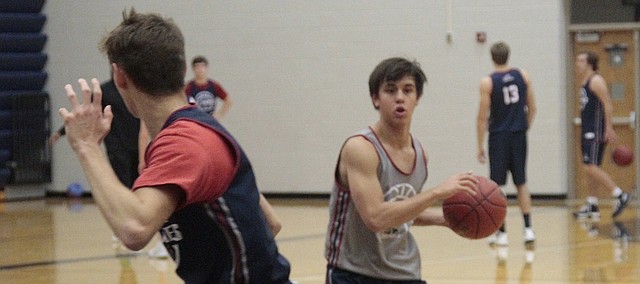 Lenexa — The St. James Academy boys basketball team will have a much different look to it this season after losing all five starters from its 2016-17 campaign.
The Thunder will still have two veteran guards back to lead the way between junior David Hornung and senior Josh Spradlin, and they've liked what they've seen out from the plethora of varsity newcomers.
"We have a lot of really good younger players on this team. We have a lot of good shooters," Spradlin said. "We have a lot of guys that can handle the ball and play smart and a lot of guys who really play as hard as they can 100 percent of the time."
Stan Dohm's squad was already in a difficult situation with having to replace graduated seniors Zach Thornhill, Will McKee, Kyle Dekraai and Spencer Kaifes, but the Thunder were dealt a big blow when Stanford signee Keenan Fitzmorris transferred to New Hampton in New Hampshire right before the start of the school year.
"Obviously we've lost all five of our starters and we're bringing back less than double digits per game, but honestly our team chemistry this year is great," Hornung said.
"We've had a lot of really high-energy practices so far. I'm looking forward to it."
While the Thunder don't have much varsity experience aside from Spradlin, Hornung and seniors Casey Worley and Jake Dunsmore, leadership hasn't been a problem. The likes of seniors Gus Lechtenberger, Hunter Hatfield and Reed Wilkinson; junior Sean Zeisman and sophomore Jack Moellers are all expected to compete for significant minutes this season.
"We have a whole group of leaders on our team," Spradlin said. "We have a whole bunch of juniors and seniors that have really bonded over this offseason and really made an effort to hold each other accountable."
The Thunder are slated at No. 2 in Class 5A of the Kansas Basketball Coaches Association preseason rankings, and will look to build off of their 14-8 record last year. St. James will travel to Wyandotte at 7 p.m. Friday for its season opener.
More like this story