New pack of Cougars ready to step up for
SMNW

boys basketball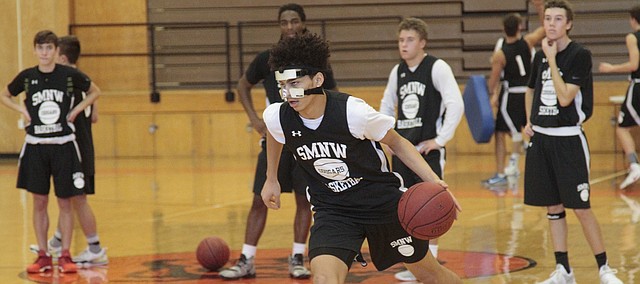 After being a junior on a senior-laden Shawnee Mission Northwest boys basketball team last season, the roles have reversed for C.C. Ghilardi going into his final go-around with the Cougars.
Ghilardi was still one of the Cougars' top offensive threats during the 2016-17 campaign, and he's excited to lead a young group of SM Northwest players this season.
"It's going pretty good. We've got pretty much a brand new team this year after losing nine seniors last year," Ghilardi said. "We're kind of just starting everything up and getting familiar with the new team. Other than that, it's going good."
With a majority of this year's varsity squad having played together last year at the JV level, Ghilardi indicated that the first few weeks of practice have been a learning experience for him as well.
"Right now I feel like most of the guys are cool with each other. It's mostly me trying to figure out how to work with them," Ghilardi said. "They're doing good. I'm just trying to get back into things."
As the young SM Northwest squad gets acclimated to a new level of competition, Cougar head coach Mike Rose has tried to put his players in different pressure situations in practice. At the beginning of each practice, Rose has each of his players step to the charity stripe one at a time for a free throw while everyone else stands on the baseline. If the player makes it, the person comes up to shoot. If the player misses, the whole team runs.
"I told them they're either going to be really well-conditioned or we're going to be a really good free-throw shooting team. Today was the best day we've had at the free-throw line," Rose said during practice on Nov. 20. "I'm hoping it gives those kids a little bit of a sense of a pressure free throw. We're getting better at it, which is good. Also we're getting into really good shape, too."
Rose has been pleased with the overall strides the Cougars have made in practice. The SM Northwest coach said that George Specht and Verlee McCullough have joined Ghilardi in displaying senior leadership, and junior Dale Talley III has stepped up in a big way, too.
"Guys lead differently and sometimes these guys like Verlee and George usually just lead more by how they do things and not so much vocally," Rose said. "But Dale and C.C. are both kind of positive vocal leaders on our team, so to have a combination of that has been good for us."
As the Cougars gear up for their first game at 7:30 p.m. Friday at Mill Valley, Rose is looking forward to see how his team comes together throughout the season. The Cougars will try to improve on their 7-14 record from last season.
"These younger guys have been in our youth programs and they've been playing a lot with us, so now we're just going to try to develop the overall program," Rose said. "We are going to be a young team, but I feel like the chemistry of this group has been really good for the first week."
More like this story