Young
SM

North boys basketball team gears up for season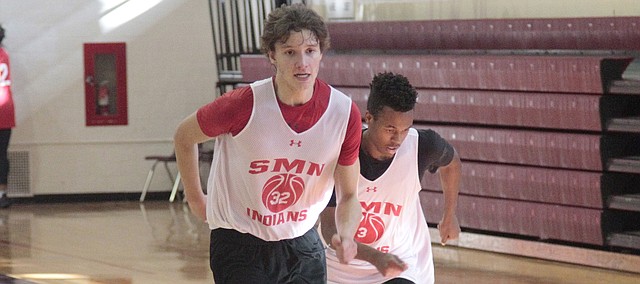 Overland Park — Shawnee Mission North junior Jarrett Hensley is all that remains when it comes to players who had significant playing time on the Indians' 2015-16 Class 6A state championship boys basketball team.
While Hensley has the most varsity experience as a junior, he's done his best to instill a championship mind-set into his teammates.
"This is my third year here, so I'm basically the old dude," Hensley said. "I have to be a leader this year and teach everybody how to do this. Once the year goes on, we'll be better."
There has been a little bit of added pressure on Hensley with fellow junior Amari Williams currently of action with a foot injury. Williams has been able to shoot some on his own off to the side, but SM North coach Steve Stitzer doesn't expect him to return to action until after winter break. North senior Ray Verdugo was also sidelined for the first two weeks of action after suffering a knee injury in football, but Stitzer is hopeful to he'll be back sooner rather than later.
"The first thing is that we have to keep everybody else healthy. Amari is the shooter we've got on the team," Stitzer said. "We've got to get him back. We've got to expect him to be healthy when he comes back."
Stitzer added, "Ray Verdugo is our only senior. He's almost ready to come back and now we've got to get him in shape."
After posting a 7-14 record last season, Stitzer wants his young team to focus first and foremost on the defensive end as the Indians prepare for their opener against Lee's Summit at 2:30 p.m. at Liberty. Stitzer has been encouraged by the defensive effort from KT Harris, who returns with some varsity experience from last season.
"KT's a defender and he just goes 100 mph. He's going to get his," Stitzer said. "I don't think I need to worry about him because he's going to come up with steals and good defensive stops and then again on offense he's going to do very well."
Stitzer and his coaching staff have been trying to teach the importance of being discipline and good communication during the first few weeks of practice. The Indians spent a majority of a practice during Thanksgiving break doing some running because a few players weren't on the same page about what time practice was taking place.
"We are really young. We have a lot to learn, but I think we're really hungry," Hensley said. "I think we have the perfect coach to get us through this. We just have to get back and get everybody healthy again and I think we'll be fine."
Although the practice wasn't a fun one for Hensley and his SM North teammates, he said that the Indians have needed a few like that in order to prepare for the pace that they plan to play at.
"For practice, we do a lot of running," Hensley said. "That's going to be our primary offense. We're going to get out and run and score."
Hensley set the pace with Harris and Tremaine Jackson during the Nov. 20th practice. Stitzer said that he can't ask much more out of Hensley with the leadership that he has shown.
"There is a lot on his shoulders. We've got to get another guy as well to step up and be a leader," Stitzer said. "By leading a young team, it's going to be tough for Jarrett because he's going to have to score a lot anyway. He's got to be that leader and be the voice.
"It's going to put a lot of pressure on him. For him being a junior, that's a good thing, though. We can try to fix a lot of that stuff."
While the Indians graduated two talented guards in Danny Bradley Jr. and Avante Williams, Stitzer believes that his players will rise to the occasion to fill their voids as they get to full strength. Stitzer said that his team's attitude is better than at this point last season, as he admitted that the Indians were over-confident following their state title run.
"It's a lot different from last year. When you come off of a state championship and last year's team thought that they were basically going to go back and do it again or whatever and they had that kind of attitude," Stitzer said. "To lose five games when we had possession of the ball that we could have won, with things like that we didn't have very good luck last year I didn't think. It was pretty much a trying year for the coaches."
Stitzer concluded, "I just like this group. This is a good group of kids. I think the coaches are going to really like coaching these kids and I think they want to be coached."