Shawnee woman dies after being shot in downtown Lawrence
5 people shot; 3 dead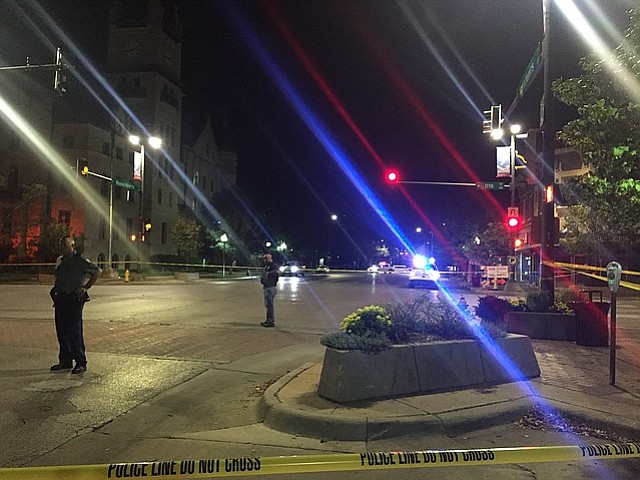 Lawrence Police are investigating after at least five people were shot — three fatally — in downtown Lawrence just before 1:40 Sunday morning, according to a news release from Officer Derrick Smith.
The exact location of the multiple shooting wasn't clear but police had blocked off Massachusetts Street between 10th and 11th streets.
Interim Police Chief Anthony Brixius said police, who are headquartered in the 1100 block of Massachusetts, heard 20-plus gunshots and responded to the scene, along with medical personnel.
At the scene, officers encountered a large crowd and several victims suffering from gunshot wounds, Smith said in the release. Five victims have been identified from the shooting, and three sustained fatal injuries: 22-year-old Leah Elizabeth Brown, of Shawnee, 20-year-old Colwin Lynn Henderson, of Topeka, and 24-year-old Tremel Dupree Dean, of Topeka.
Two other victims are being treated at area hospitals for nonlife-threatening injuries, Smith said.
Brixius said just before 3 a.m. that no one had been detained in the shooting and he could not say whether more than one suspect was involved.
Crime scene tape was stretched across storefronts in the 1000 block of Massachusetts Street. In front of Aladdin Cafe, 1021 Massachusetts St., a pool of blood was visible.
Lawrence resident Kyeeton Soukup told the Journal-World that he was in Pyramid Pizza, 1029 Massachusetts St., when someone came in from outside and shouted, "Oh my God, there has been a shooting outside!"
Soukup, who had not himself heard the shots, said he ran outside and encountered two shooting victims on the sidewalk not far from Watkins Community Museum on the corner of 11th and Massachusetts. He immediately ran to find a defibrillator, he said, but as he returned emergency personnel were already on the scene.
An employee of It's Brothers, who did not want his name used, told the Journal-World that the shooting appeared to have occurred in the 1000 block of Massachusetts Street. He said he did not hear any shots but observed a lot of commotion to the north.
At least one helicopter ambulance had been called, but it wasn't clear if it transported anyone.
According to Operation 100news, the Journal-World's news partner, police were standing by outside of Lawrence Memorial Hospital, as a "large crowd of possible family members" gathered there shortly after the shootings.
Zach Ziesmer, a Lawrence Uber driver, told the Journal-World that it had been a busy night in Lawrence, with Late Night in the Phog having occurred earlier in the evening at Allen Fieldhouse as well as a large concert at the Granada, 1020 Massachusetts St., featuring a guest appearance by rapper Lil Yachty, who had performed earlier at Late Night.
Mike Logan, the owner of the Granada, said he does not believe the shooting stems from any incidents that happened at his club during the concert. He said his security staff reported nothing unusual during the concert. He noted that the concert ended at 12:30 a.m. and that the club closed at 1 a.m., which was about 40 minutes before the shootings. He said his club also requires all patrons to be scanned with a metal detector wand and to be patted down before entering.
Ziesmer, who is frequently in downtown as part of his Uber job, said "Something felt wrong" about the evening "even before this happened."
Ziesmer said he did not witness any of the violence but as he arrived near the scene of the shooting about 2:30 a.m. he saw what appeared to be a body on the ground. A blue tarp later covered that area.
"I have lived here a year," Ziesmer said. "Lawrence has its fair share of violence, but for it to be right on Massachusetts Street seems kind of unreal."
The Journal-World obtained a copy of a Facebook Live video seemingly taken shortly after the shooting. The video shows a chaotic scene centered at the northwest corner of 11th and Massachusetts streets in front of Watkins Community Museum. The video shows Lawrence police officers were on the scene administering CPR. An ambulance crew arrived a few minutes later.
The area was crowded with people, presumably exiting downtown bars that were closing for the evening. Many of the people were walking just feet from the graphic scene. The Journal-World is not publishing the video because of its graphic content and the ongoing nature of the police investigation.
The presence of the video-taker created some disturbance around the scene, as you could hear people urging the man to stop shooting footage of the victim. But the man continued to shoot video for more than 11 minutes, at one point saying: "This (expletive) is crazy. You all are watching it live." Another man interjected: "We ain't going to watch him die, though."
About two miles away at Lawrence Memorial Hospital, the scene was tragic in the parking lot outside the emergency room. Several people were trying to console a young man who was screaming "I'm sorry, I'm sorry." A man in a hospital gown briefly exited the hospital and hugged several people who were part of a crowd of about 20 people who had gathered outside the entrance to the emergency room.
As of 11 a.m., businesses near 11th and Massachusetts streets still remained closed as police completed their on-scene investigation. Police asked people to avoid the area Sunday morning.
Officers are seeking assistance in identifying the suspect or suspects. Anyone with information is asked to contact the Lawrence Police at (785) 832-7509 or Crime Stoppers of Lawrence and Douglas County at (785) 843-TIPS. Tips made to Crime Stoppers may remain anonymous.
-Operation 100 News contributed to this report.