SMNW

volleyball wins inaugural Janice Van Gorp Tournament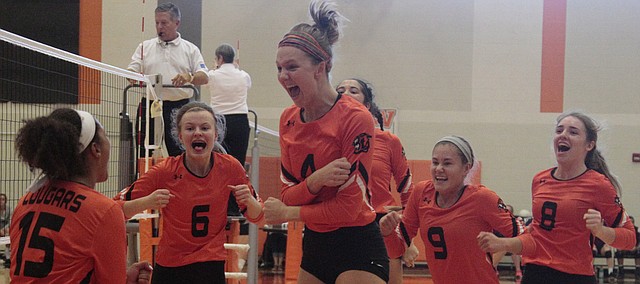 After making a trip to the state tournament last year, the Shawnee Mission Northwest volleyball team has been highly-motivated all season long to prove that it wasn't a fluke.
The Cougars (22-10, ranked No. 10 in 6A) made a statement on Saturday by winning the inaugural Janice Ninemire Van Gorp Volleyball Tournament, which was highlighted by victories over Blue Valley North (No. 1 in 6A) in the semifinals and De Soto (No. 3 in 5A) in the championship match.
"It means a lot," SM Northwest junior Hannah Black said. "It really builds our confidence and it shows other people who didn't believe in us that we can go back to state and actually compete."
Along with having a point to prove against some top-notch competition, the Cougars wanted to play a style of volleyball that would make Van Gorp — who died in 2015 following a brain aneurysm — proud. Van Gorp left her mark on SM Northwest athletics before taking her talents to Iowa State to play volleyball and compete in track and field.
"We're so proud to be able to host this tournament. It's Year One of trying to get it off the ground," SM Northwest coach Susan Specht said. "Janice had a huge passion for volleyball, a huge passion for coaching and trying to get her girls to play with a lot of heart. So being able to bring all of these volleyball girls in — girls who love the sport like Janice did — it makes me really proud to play in her honor and for her."
Van Gorp also had a standout coaching career, as she guided SM North to a state title in 2002, turned around the Heritage Christian Academy volleyball program and helped the MAVS Volleyball 12-and-under club team win a National Junior Olympics title in 2008.
There was a shrine put together outside of the SM Northwest auxiliary gym that included some of photos and newspaper clippings that featured Van Gorp, as well as a few of her t-shirts and awards that she had earned. Above the shrine was a poster that had one of Van Gorp's favorite quotes on it — "When you feel like quitting, don't focus on the miles ahead of you, focus on the finish line."
The Cougars could relate to Van Gorp's quote in their semifinal match against Blue Valley North (20-5, No. 1 in 6A) and championship match against De Soto (22-3, No. 3 in 5A) — both of which went three sets. Northwest outlasted BV North, 25-23, 34-32, 25-17, before rallying past De Soto, 22-25, 25-19, 25-20.
The Mustangs cruised past the Cougars in pool play, 25-11, 25-17, and had the upper hand in the semifinals after holding them off in the first set. The Cougars had their backs against the wall in the second set of the semifinals as well before Black stepped the service line. Black — who is a standout volleyball, track and field and basketball athlete just like Van Gorp was at SM Northwest — had four total aces in the semifinal, and had a hot serving streak to give the Cougars a 24-22 lead after they had trailed for most of the set.
Northwest needed one more point to force a third set, but BV North went on a 3-0 run to put the Cougars back on the brink of being swept. The Mustangs ended up having three match points and the Cougars had seven set points before SM Northwest eventually prevailed.
The momentum carried over for the Cougars in the third set, and they never trailed en route to closing out the Mustangs.
"The girls set as one of their team goals to win the Janice Van Gorp tournament for Janice and for the team," Specht said. "So going out there and accomplishing a goal is a huge step for them because that was the mind-set that they wanted to get it done and they did."
Being mentally prepared for each match has been critical to the Cougars' success this season, especially for freshmen Reanne DeBose and Taylor McCarthy. DeBose was one of three Cougars to record double-digit kills against the Mustangs. The SM Northwest freshman tallied 12 kills, and Black and senior Ava Graves had 14 and 11, respectively.
"It's really cool because coming in as a freshman you don't really expect that much, but it's really fun to compete and have that much fun with all of my friends," DeBose said.
DeBose and McCarthy both recorded two blocks apiece to lead the Cougars defensively at the net in the semifinals. McCarthy, DeBose, sophomore libero Rylee Garrett and Black are the only non-seniors on the team, but McCarthy said that the upperclassmen made her feel like a part of the team from the get-go this season to give her plenty of confidence.
"When I'm playing on the court, I don't feel like a freshman," McCarthy said of how the senior leadership of Graves, Abriel Jarrett, Morgan Berry, Kennady Bustamante and Sabrina Creason has impacted her. "I feel like part of the varsity team, so I like that with how I feel like a part of it and not brand new to the team."
Graves and Black carried the load for the Cougars early on in the title match against De Soto, as they built a 19-13 lead. The veteran De Soto squad did not back down, though. The Wildcats surged in front with an 8-0 run behind two aces from senior Alexa Rosetta and two kills from junior Cassidy Crist and never looked back.
Crist and freshman Brooke Stonestreet stepped up as the Wildcats' top two offensive options throughout bracket play.
"They're really doing a great job of seeing the block. Cassidy does a wonderful job of that, especially on out-of-systems balls and Brooke has really been focusing on that this year," De Soto coach Lindsay Hothan said. "I thought she did a great job. I saw some big improvements out of her today, so I'm really proud of her."
The Wildcats edged Heritage Christian (ranked No. 1 in 2A), 27-25, 18-25, 25-14, in the semifinals and swept Mill Valley, 25-17, 25-17, in the quarterfinals after going 3-0 in pool play.
De Soto closed out the match strong against Heritage Christian with a 12-1 run to end the third set. Hothan had a talk with her team during a Heritage Christian timeout in the middle of that run about visualizing how they wanted to end the tournament. The Wildcats put their minds to the task to clinch their spot in the finals.
"I told them, 'Just think about how you want to feel when we leave here today and think about what you need to do right now to make sure that you feel that way,'" Hothan said. "I just wanted to take a moment to have them reflect on what they were currently doing on the court and hopefully get more out of them because that was a match where we were really struggling there for a little bit."
Hothan credited the leadership of junior libero Maya Bascom for having the Wildcats lined up in the right positions to make plays, and felt that it showed throughout the day on Saturday.
"She's a wonderful leader. As you can hear, she's always talking and always giving 100 percent on the court. She's just kind of our voice on the court," said Hothan of Bascom. "She's our quarterback and always has been. I think that in of itself gives us an edge in every match that we play."
The experience of the Wildcats was on display during their win in the quarterfinals over Mill Valley, but that didn't put a damper on the tournament for Jaguars coach Debbie Fay. The Jaguars (8-14) have some experience in important spots at the net between seniors Ava Taton, Abby Archibong and Allie Harvey and juniors Molly Cosmillo and Adelle Warford. Fay also has six freshmen on the varsity roster, and she was pleased with the effort they put for.
"We're coming along. We're battling," Fay said. "I've got a lot of not-as-experienced volleyball kids playing at a pretty high level and I'm proud of them."
The tournament marked the end of an action-packed week of volleyball for Mill Valley. The Jaguars went 0-2 at their home triangular on Tuesday against Blue Valley and St. James before on Thursday to win the Emporia triangular with victories over Emporia and Ottawa. Fay felt that the Jaguars came ready to play on Saturday, but could tell that the long week wore off on them as the tournament went on.
"That's what we were just talking about at the end of the day is that we had a long week and it's taxing on these kids. Emotionally it was hard to get fired up and ready to play," Fay said. "I was very proud. We showed up ready."
The Jaguars swept SM South in pool play, 25-18, 25-17, before falling to SM Northwest, 25-17, 25-21. Mill Valley final pool play match came again BV North, and it was the one that Fay said the Jaguars will probably take the most away from. The Jaguars ended up falling to the Mustangs, 25-14, 25-21, 25-13, but the second-set victory was something that the Mill Valley coach said her team to build on.
"They battled well against Blue Valley North," Fay said. "We kind of got another spurt and played really well. That's the kind of volleyball we've been playing, so we're used to that level of fast and hard, so maybe they felt more comfortable."
Fay added, "I kind of talked to the kids about you need to take away the things that went well for us today. We showed up ready to play for the first match, so how we prepared for this morning was good. We need to remember that and do that again and just (have) the energy level to dig deep when you're emotionally exhausted and you've got to dig deep. I can't change our schedule. They're learning to do that."
Shawnee Mission North earned the final spot in bracket play thanks to its sweep of Junction City. The Indians upended the Blue Jays, 25-12, 25-19, to earn their third victory of the season.
Awaiting the Indians in bracket play was top-seeded BV North, but the Mustangs claimed the victory to set up the three-set thriller against SM Northwest.