Just call it a "family reunion."
Last week was a memorable one for Shawnee as delegates from two Sister Cities visited.
From Pittem, Belgium, Mayor Ivan Delaere arrived with his son and other city officials early last week.
A couple days later, a team from Erfurt, Germany showed up, which included Mayor Andreas Bausewein, his two teenage daughters, and other city officials.
Activities for the city's European friends included sightseeing around the Kansas City area, a dinner at Shawnee Mission Park, a luncheon presentation at Mayor Michelle Distler's workplace, Risk IQ, and enjoying live music and dancing at the Shawnee Oktoberfest.
On Sept. 26, Pittem officials attended the city's World War I memorial dedication at West Flanders Park, near 55th Street and Nieman Road.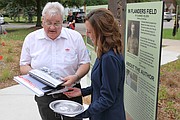 The recently unveiled memorial, a tribute to the historic poppy fields in West Flanders, Belgium, features breathtaking red poppies, as well as historical information about the significance the flower had on the region during such a tumultuous era.
Funded through generous donations, it also features the famous poem, "In Flanders Field," written by Canadian soldier John McCrae.
During the presentation last Tuesday, Mayor Michelle Distler informed the large crowd of the history behind Shawnee's Sister City relationships.
The city embraced the program in 1984, with Pittem, in the region of West Flanders, being Shawnee's first sister city.
It was a perfect match since Shawnee's roots are deeply embedded with Belgian immigration.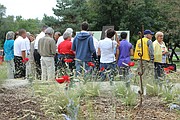 During the 1800s and early 1900s, many Belgians left the West Flanders area because of high land prices and economic depression, with many of them settling in Shawnee.
By 1930, 28 percent of the city's residents were born in Belgium and 22 percent had parents of Belgian descent, making up around 50 percent of Shawnee's population.
Those immigrants and their descendants helped establish Shawnee as a prominent farming community.
"West Flanders Park was dedicated two years after that, in 1986, and it has become a very popular place for residents of all ages to come play at the castle, go for a stroll and now, we hope, to come recognize the bond we have as Sister Cities and our dedication towards remembering West Flanders' role in World War One," Distler said.
When observing the memorial, Delaere told the Dispatch, "To know people are thinking of us so far away is nice. It is very beautiful."
On Wednesday morning at the Justice Center, Shawnee city officials conducted its annual emergency operations process, which German and Belgian officials observed.
Bausewein told the Dispatch the training exercise was fascinating to watch, especially since it dealt with natural disasters, such as tornadoes, that are uncommon in his country.
He also added that he enjoyed seeing the vast differences and surprising similarities between Erfurt and Shawnee.
"It is very important, now more than ever, to understand other cultures and we are very fortunate to have Shawnee as a friend," he said. "Both of our cities are tidy and growing and I think both cities are doing economically well."
It has been nearly a decade since more than one Sister City delegates have been in Shawnee at the same time.
It made the week even more special, city officials and Sister City representatives agreed.
"He is very nice," Bausewein said of Delaere. "It's funny to think that (back in Europe) I would only have to drive four hours to see him, but we ended up meeting here. It's nice everyone is getting along."