Developers propose $113 million mixed-use project for Westbrooke Village shopping center site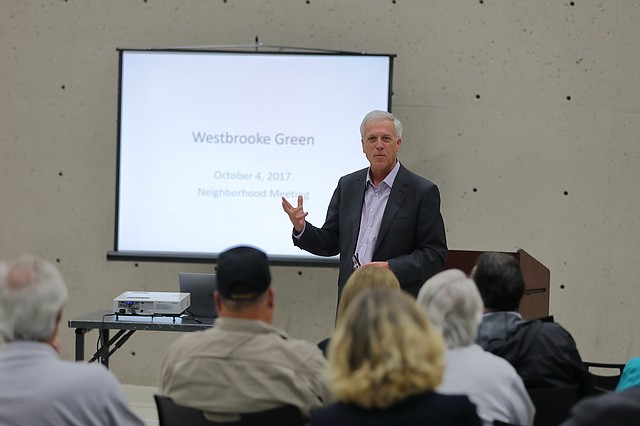 A mixed use development, with luxury apartments, retail and restaurants and a courtyard, is in the works for the Westbrooke Village Shopping Center site on the northeast corner of 75th Street and Quivira Road.
Developers held a neighborhood meeting at the Shawnee Civic Centre on Wednesday evening to discuss the $113 million project, titled Westbrooke Green.
The project team is a joint venture between Mission Peak Capital and Extell Development Company. It also includes attorney John Petersen, Polsinelli; engineer Brad Sonner, Olsson Associates and architects Clint Evans and Tim Homburg, NSPJ Architects.
Petersen led the meeting, by saying transparency was going to be key throughout the project's process.
"We'd love to come out of the meeting with everyone thinking this project is wonderful and the best thing since sliced bread and it needs no changes, but even I'm not that optimistic," he said. "I'm sure there will be some issues we'll have to look at and concerns we'll need to take into consideration."
The goal for the project is to make the area vibrant again, he added.
For years, the dilapidated shopping center has sat nearly vacant, with recent vandalisms worrying neighbors in the single-family homes surrounding it.
Plans for the Westbrooke Green development include four-story and five-story apartment buildings.
There will be an amenities center, with a pool and fitness center, for the apartment complex.
The project, featuring a warm contemporary architectural aesthetic, is designed to feature restaurants facing the courtyard, to encourage patios and terrace areas.
There will also be a 20,000 square-foot specialty grocery store, such as Whole Foods, for example.
Petersen confirmed there is discussion with some of the current retailers to stay on board, but he couldn't provide details since nothing is finalized.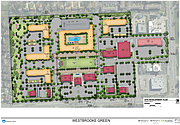 Overall, the plan calls for 108,500 square feet of retail and restaurant, with 530 residential units.
Petersen emphasized the residential component of the development will be very high-end, designed with young professionals and empty-nesters in mind.
"These apartments are intended for people who want to rent by choice, rather than rent by necessity," he pointed out. "Residents of this community are those who can afford to live in the type of homes surrounding them, but they don't want to be homeowners."
Rent for the apartments is projected to be $1.30 per square-foot, he stated.
Since the apartments at Westbrooke Green range from 600 square feet to 1,100 square feet, it means the rent range will be from around $800 to $1,400 per month.
"This is not subsidized housing," Petersen said. "You have to have a good job to afford the luxury this apartment offers. This is at the very high end of Shawnee multi-family apartments and it will set new standards."
The project will also include sizeable green space and trails on the north side. Petersen said the developers are planning to keep as much existing vegetation as possible, with a smooth transition between the development and adjacent properties.
"We're going to knock your socks off with the landscaping we're going to do," he added.
During the meeting, Petersen answered many questions from the audience.
One resident told him she was concerned about the impact the apartment buildings would have on the nearby schools.
Petersen replied that statistics show these type of luxury apartments tend not to generate a lot of school-age children.
A few residents expressed disappointment that apartments were going to be built at the location when they believed it should be full retail and restaurant, as it has been for decades.
Petersen, who has 30 years experience in real estate, told the audience that this type of shopping center is not relevant anymore.
He pointed to examples such as mixed-use developments Prairiefire and Corbin Park in Overland Park, which he said are viable because both have a residential component.
A few residents also had concerns about traffic.
Petersen said developers plan to create a signalized intersection into the development from Quivira Road and traffic engineers for the project also plan to rework the sequence of nearby traffic lights, such as 75th Street and Quivira Road. It was a remark that caused a few cheers and even a "thank you" to erupt from the audience.
Towards the end of the meeting, Petersen confirmed the developer will be seeking tax incentives for the project.
When asked by a resident what will happen to the project if the tax incentives aren't passed by the Shawnee City Council, he said the developer will have to build a less expensive project on the site, which will result in lower quality than the project currently presented.
After the meeting, many residents stayed behind to chat with the project's team leaders.
Shawnee resident Bernadette Coulter, who lives behind the shopping center, told the Dispatch she believes there are too many apartments in that area and she is dubious the new apartments will stay "high-end" because other apartments in the area were labeled that term at one point.
"There are over 2,000 apartments and vacancies right there in a one-mile radius," she said. "A lot of them are now subsidized."
Instead of apartments, she would just like to see some new shops, such as a general grocery store, and nice restaurants built there.
As for Shawnee resident Michael Pezza, who lives west of the development, he said his heart sank when he heard the developers would be seeking tax incentives.
"I feel like the city is giving tax money away," he said. "It's our tax dollars and I'm against it going to a private developer. Shawnee is one of the crown jewels of Johnson County. If we are patient, businesses will pay to come here. I don't see how 530 apartments adds value to Shawnee."
He told the Dispatch his dream would be to see the area developed into a park instead.
Some audience members, however, were excited by the developer's proposal.
Councilman Brandon Kenig told the Dispatch he grew up going grocery shopping at Westbrooke Village and he fondly recalls trick-or-treating there as a little kid. He's enthusiastic a mixed-use project could potentially revitalize the area.
"That central green space brings it all together and it has the potential to be a community space," he said. "It's innovative and a project that is truly unique. I'm excited to see how things progress."
He pointed out that Westbrooke Village is currently the largest vacant shopping center in Johnson County.
He believes the new mixed-use project could have a ripple effect in the city's southeastern area.
"That area has been blighted for so long and I know a lot of residents are eager to see it cleaned up and vibrant again," he said. "It's troubling for home values when you live across the street from something vacant."
In documents on the city's website this week, it is revealed that for the $113 million project, the developers are proposing to invest $87.7 million into the project, while seeking $25.3 million in public incentives from the city.
They include $5.6 million from a 1.5 percent Community Improvement District (CID) sales tax and a $19.7 million in tax increment financing (TIF).
At Monday's city council meeting, the governing body will vote on a resolution to provide notice for a public hearing to consider the establishment of a TIF redevelopment district.
The governing body will not be voting on tax incentives at the meeting, it is a preliminary step to consider the issue.
The meeting will be held at 7 p.m. on Monday at Shawnee City Hall, 11110 Johnson Dr.
-Mike Frizzell of Operation 100 News contributed to this report.