The Shawnee Police Department's Traffic Safety Unit is investigating after visitors to a city park found an SUV on its side in a creek Saturday morning.
In a news release, Sergeant Corey Wilburn says officers were dispatched to Pioneer Crossing Park, near Shawnee Mission Parkway and Melrose Lane, at 11:19 a.m.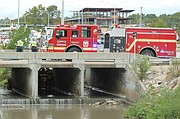 "Responding officers located an overturned vehicle in the creek under the bridge that leads to the park just off Shawnee Mission Parkway," Sgt. Wilburn said in the release. "A male occupant was located and pronounced deceased at the scene by fire and paramedics."
Sgt. Wilburn says there were no witnesses to the crash and it appears to have occurred overnight.
Firefighters from Shawnee and the Overland Park Fire Department responded to the call with Johnson County Med-Act. Those firefighters cut part of the SUV's roof off to reach the man.
Police continue to investigate the crash and have not released any identifying information about the man.
---
Operation 100 News provides overnight news coverage for the Shawnee Dispatch. Follow on Twitter for real-time updates.