St. James wins 5A regional girls tennis title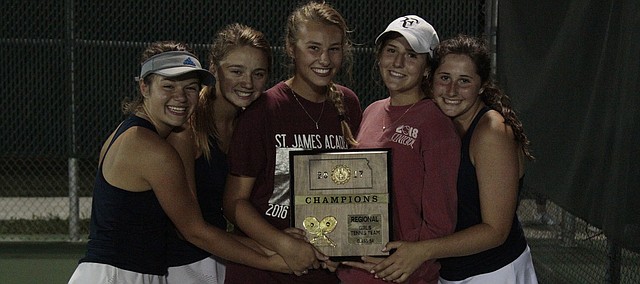 De Soto — In what would normally be one of the most stressful matches of a regional tennis tournament, there was nothing but laughter, a few jokes and a joyful hug during Saturday's doubles final.

St. James Academy junior Tara Devine and senior Meredith Bierbaum defeated their teammates, seniors Jillian Kubicki and Ryan Starkey, 6-3, 6-2, but there were smiles all around since the Thunder had won a Class 5A regional title and were sending all six of their players to state. It's the first time in school history that the Thunder qualified six players for the 5A state tournament, which will take place Friday and Saturday at Maize South.
"I think the big thing for us, is like I said to Tara before, that I just want to have fun. This is my last regional," Bierbaum said. "It could have been my last meet for all we knew and I just really overall just wanted to have fun and enjoy a nice day of tennis. That's exactly what we did."
While Bierbaum will be making her third trip to state, it's the first time that Devine has qualified. Even though the doubles tandem didn't drop a set all day, it was still surreal for Devine to officially earn a state berth.
"I am so excited. I couldn't really believe it. Like Meredith told me like as soon as we won the point for the match to go to state, she's like, 'Tara, we're going to state,'" Devine said. "It took me a second to process it. I'm excited and I can't wait. I get to share the first moment with Gabbi (Taylor), which is really nice, too."
For Starkey and Kubicki, this weekend will be their second go-around at state. The Thunder's No. 2 doubles team defeated De Soto seniors Carly Bodenhausen/Raegen Ramsdell and Blue Valley Southwest's Ervin/Putnam to clinch a spot a state and match in the semifinals against Mill Valley junior Anika Roy and freshman Ellie Schaffer. Starkey and Kubicki lost the first set in a tiebreaker, but played more relaxed after that and went on to complete the comeback for a 6-7 (2), 6-1, 6-3 win.
"I think when we have fun, we play a lot better," Starkey said.
While Starkey and Kubicki weren't able to knock off Devine and Bierbaum in the championship match, they beat them twice in practice last week and are much more confident going into the state tournament this year.
"It was an eye-opening experience," said Kubicki of last year's state tournament. "We were like, 'OK, this is what we need to do for next year.' We kind of know what state is going to look like."
St. James senior Catherine Rieke and Taylor, a freshman, rounded out the regional championship team by taking second and fourth, respectively, in singles. After receiving a first-round bye, Rieke defeated St. Thomas Aquinas' Taylor Smart to clinch her fourth straight trip to state. Rieke then edged Mill Valley freshman Sophie Lecuru, 6-4, 7-6 (2) in the semifinals, before falling to De Soto sophomore Issa Sullivan, 6-3, 6-3, in the title match.
Taylor went 2-2 in her first regional tournament — defeating BVSW's Chloe Shi and Madison Fischer before falling to Sullivan in the semifinals and Lecuru in the third-place match.
Mill Valley finishes as runner-up
The ability of Lecuru and Roy/Schaffer to bounce back for victories in their respective paid dividends for the Jaguars, as they finished second in the team standings to St. James.
All three Jaguars qualified for state for the first time at Saturday's regional.
"I'm so proud of our whole team," Roy said. "We've never placed at regionals, well, at least in a long time. It's really exciting that our whole team got to share it."
Both of the Mill Valley doubles teams had not been paired up prior to this season between Roy and Schaffer and senior Peyton Moeder and junior Josie Carey. While Moeder and Carey were one place away from qualifying for state after taking seventh, the one point they scored was the difference between second and third place.
Roy was impressed by how quickly Carey and Moeder meshed as a doubles tandem after becoming partners midway through the season, and felt that their hard work and the improvement from No. 2 singles player Madison Van Buhler should not go unnoticed in helping the Jaguars to their second-place finish.
"They kind of did it all themselves," said Roy of the strides Carey and Moeder made as a doubles pairing. "At practice, we play a lot of practice matches — which helps both of us get better. At the Emporia meet, we actually went up against each other and we helped each other a lot. But the two of them have worked harder than anyone."
In the third-place match against St. Thomas Aquinas, Roy and Schaffer had to battle some adversity after dropping the first set. They were able to find a rhythm in the second and third sets, though, to earn a 2-6, 6-4, 6-4 victory.
"We just talked and got our energy up every point," Schaffer said.
Lecuru surged past Taylor, 6-2, 6-3, in the third-place singles match.
De Soto's Sullivan wins singles title
After losing to Rieke last year in the regional final, Sullivan got the better of the St. James senior on Saturday to highlight De Soto's fourth-place finish.
Rieke had built a 3-2 lead in the first set, but Sullivan won the last four games to seize control. The momentum carried over for the De Soto sophomore in the second set, as Sullivan won four of the first five games.
"It's really nice because last year I took second, so it's nice to redeem myself," Sullivan said. "I played Catherine last year, so I was excited for this match."
Sullivan has a record of 26-1 going into state with her lone loss coming against two-time defending 4A state champion Brooklyn Hunter, of Topeka Hayden.
"I'm a lot more prepared than I was last year because I've actually been able to practice this year," said Sullivan while looking back on the injuries she faced as a freshman. "I'm really excited to see how I can do."
While Sullivan is looking forward to the state tournament, Saturday's regional was bittersweet for her since it was the last high school competition for Bodenhausen, Raegan Ramsdell, Josie Bedford and Kelsey Heer. Sullivan and junior Bailey Ramsdell were the only non-seniors on De Soto's regional team.
"I'm going to miss my seniors," Sullivan said. "That's like most of our team. So it will be hard next year, but that's OK."