New Shawnee Chamber leader looking forward to exploring city's innovation and potential
The Shawnee business community now has a new voice leading it.
Ann Smith-Tate was recently named the president and CEO of the Shawnee Chamber of Commerce and the executive director of the Shawnee Economic Development Council.
She started the position last month.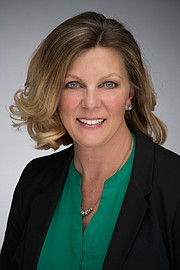 Smith-Tate spent the past 11 years as the economic development director for the city of Independence, Mo. where more than 1.6 million square feet of commercial real estate was developed and 8,500 jobs were created and retained during her tenure.
Among other significant achievements, Smith Tate was instrumental in the development of the 5,600-seat Silverstein Eye Centers Arena in Independence.
More recently, she guided the creation of the successful Noland Road Community Improvement District, the largest such district in Missouri.
Prior to her time in Independence, she was the director of business programs for the Overland Park Chamber of Commerce.
"Shawnee is a great community, so I'm super excited to be here," Smith-Tate told the Dispatch. "There is a lot of potential for new development here and the city seems open to being innovative and progressive."
The Iowa native moved to the Kansas City area in 1996. She has a husband and two children.
In her new role, Smith-Tate will run the day-to-day operations of the Chamber, help attract new businesses to Shawnee, expand the economy, work with current business owners to meet their goals and potential, and work with developers who are interested in Shawnee.
The city, with its rich history, is a great place to raise a family and an ideal location to nurture a business, with its prime access to Shawnee Mission Parkway, K-7 Highway and I-435, she said.
"Shawnee is very unique because there are newer areas with young families and opportunities for new development, but there is also a historic, nostalgia area, which needs re-imagination," she told the Dispatch. "It's challenging, but it's not overwhelming. It's about developing the right vision and strategy for each area."
She's also excited to explore ways to help Shawnee flourish along with the rest of the metro area.
"Kansas City has been on fire lately with all of the opportunity coming its way," she said. "It's an exciting time to be in economic development in the Kansas City area right now. There's an abundance of opportunity for development in the whole region and we need to figure out what part of it makes sense for Shawnee."
To ease into her new role, Smith-Tate has spent the past month meeting as many Shawnee business owners as possible.
With her expertise and impressive background, Chamber officials agree she will benefit the organization and the community.
"We are fortunate to have Ms. Smith Tate join our organization," said Brian Brown, chairman of the Shawnee Chamber of Commerce board. "She is an exceptional person with deep respect across the region for her professional experience and outstanding accomplishments. She has demonstrated a passion for creating relationships and building communities, and I know she'll make a quick impact in Shawnee. We're thrilled to have her."