SMNW

's Ross wins all-around at

SM

South Invitational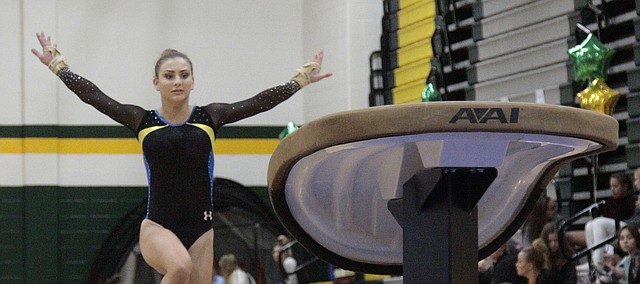 Overland Park — Shawnee Mission Northwest senior Hallie Ross was looking forward to competing in a unique, stress-free setting on Tuesday at the SM South All-Around Invitational, and she didn't disappoint.
While Ross has enjoyed her first season on the SM Northwest gymnastics team, she felt a little more at ease in a meet with no team scores and being able to wear her personal leotard. Ross placed second in the uneven bars, beam and vault and finished fourth in the floor exercise to claim the all-around title.
"I think it was a really good meet. I like this meet," Ross said. "It's a lot of fun. It takes a little bit of pressure off when you don't have to worry about the team and just worry about yourself."
The event that Ross placed the lowest in was actually the one she enjoyed the most, as she earned a score of 8.9 in the floor exercise. Ross posted a score of 8.45 on bars while scoring higher than 9.0 in the vault (9.1) and the beam (9.025). The SM Northwest senior edged Olathe Northwest's Sydney Weeks by one-tenth of a point to win the all-around.
"I loved floor tonight," Ross said. "I think it was really fun to show off tonight and I liked the atmosphere. It was more relaxed and less stressful."
Ross and the Cougars were coming off of a third-place finish at the Sunflower League meet on Saturday. Head coach Jessie Rood is pleased with how things are coming together for her team going into the all-class state meet on Oct. 21 at Olathe East.
"They're really excited," Rood said. "We're ready to spend the next week-and-a-half or so working really hard and staying focused, cleaning everything up and sticking some solid routines at state."
Rood's full squad was not in action on Tuesday since it was only for those who compete in the all-around. Zoe Kopp was the only other gymnast to represent the Cougars. Kopp took 12th in the all-around, which was sparked by an eighth-place finish in vault.
Although team scores were not calculated, each gymnast still represented their own school, which meant that De Soto's Molly Stack — who is a member of the SM Northwest team — got to compete for the Wildcats. Stack finished 16th in the all-around. Her best finish came in the vault after tying for 13th.
Two Shawnee Mission North gymnasts showcased their skills at the all-around meet, as senior Kiersten Preckel and freshman Riley Hilton represented the Indians. Hilton and Preckel placed 23rd and 24th, respectively, in the all-around.
"It went pretty good," Hilton said. "It could've went better, but I tried my hardest."
Hilton's favorite event is the floor exercise, which was also her best on Tuesday with a 21st-place finish. The SM North freshman has embraced the challenge of becoming better in each event to do well in the all-around.
"I've improved in a lot of different events," Hilton said. "I've tried harder, and it's just been good."
Preckel's best finish came on the bars after placing 16th.