St. James, Mill Valley girls golf state-bound;
MV

's Hadden wins regional title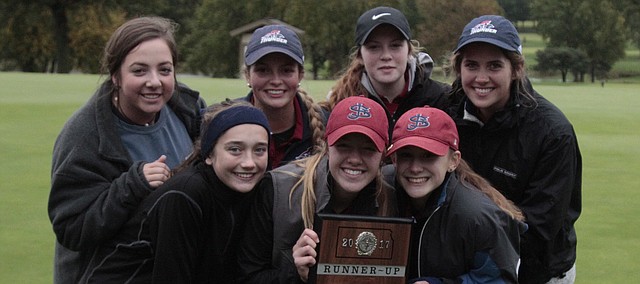 Overland Park — For the second straight week, the St. James Academy and Mill Valley girls golf teams were forced to deal with adverse conditions as they competed at the Class 5A regional tournament on Tuesday at Sykes/Lady Overland Park Golf Club.
Each St. James and Mill Valley golfer was smiling at the end of Tuesday's cold, rain-shortened round, though. The Thunder and Jaguars finished second and third, respectively, behind regional champion St. Thomas Aquinas to qualify for the state tournament on Monday at Emporia Municipal Golf Course.
"I kind of liked the conditions, honestly," St. James sophomore Allison Comer said. "I think it makes me kind of focus more. I had a really fun time playing with Bella (Hadden, of Mill Valley) and Jaclyn (Koziol, of Aquinas)."
Comer was one of three St. James golfers to place in the top 10. While Comer was one of several golfers who had already made the turn when the tournament was delayed by lightning, the final leaderboard was determined after nine holes. Comer went into a playoff with St. James senior Mary Kate Krebs, Mill Valley junior Sarah Lawson and Koziol to break up a four-way tie for third with a nine-hole score of 41.
Koziol and Lawson ended up finishing third and fourth, respectively, while Comer and Krebs followed in fifth and sixth to lead the Thunder. St. James senior Kate Duggan finished just two strokes back to finish eighth.
"I'm really proud of the girls," Krebs said. "We worked really hard to get second. I'm really excited for state."
The key to success for Krebs on Tuesday were her approach shots, and she credited that to the extra work on chipping on putting that coach Mike Consiglio has had the Thunder put in at practice.
"Our short-game practices have helped a lot this year," Krebs said. "We didn't do those last year as much, and that's really helped our team."
Mary Kate's sister, sophomore Kelly Krebs, finished just outside of the top 10 with a score of 47, which was good for 11th place. Freshman Jane Grant (tied for 16th, round of 52) and senior Sammy Hemke (18th, 54) rounded out the Thunder's regional runner-up team.
Mill Valley followed St. James in third place behind top-five finishes from Hadden and Lawson. Hadden won the regional tournament by two shots over Aquinas sophomore Maggie King after carding a score of 38.
"It's really exciting because I watched a lot of players that I looked up to win regionals," Hadden said. "I finally got to do it my senior year, so it was exciting."
Even though Hadden won the tournament, she would have liked to keep playing. The Mill Valley senior had a birdie putt on No. 14 that would have been awaiting if play had resumed.
The round was particularly encouraging for Hadden since it was her first tournament with her new driver.
"I got a new driver two days ago. It's a regular flex and I used to have a women's flex driver," Hadden said. "I couldn't control it anywhere because I would bend it too much. I didn't have a senior flex I could use, so I'm just in a regular right now. Hopefully I can figure that out before state."
The new driver completely changed Hadden's approach in the tee box. Hadden felt comfortable with it through the front nine, but realized that there were some quirks that she needed to fix after she made the turn.
"I definitely have to slow it down a lot because I have been struggling this past. I just haven't been putting up good scores in practice. I have some things that I'm working on," Hadden said. "Normally when I play golf, I don't focus on anything. I just think about the shot that I want to shape. I've been having to think about my swing, which is really different and it does take me longer to hit."
Both Hadden and Lawson were discouraged with how they played last week in the final leg of the Eastern Kansas League tournament at Swope Memorial Golf Course, but were able to learn a couple of things from it. The last leg of EKL was also delayed by rain, but was completed.
Lawson and Hadden admitted that they weren't mentally prepared to play last Wednesday with the bleak forecast, but came into Tuesday's round with a different mind-set.
"I wasn't as upset with the rain as I was last week," Lawson said. "I was a little more angry at it, and that kind of affected me. This week I was like, 'It's rain. Just play through it.'"
The Mill Valley junior had her mind set on earning a league medal last week, but wasn't able to do so after falling out of the top six. Lawson didn't leave much doubt about medaling on Tuesday with her fourth-place finish.
"That's awesome to me," Lawson said. "I'm so happy to place individually and I'm happy we're going as a team. It's just really, really exciting. It's a good pump-up for next week at state."
Adding to the thrill of going to state for Sarah is that she'll being doing so with her sister, freshman Caroline Lawson, who tied for 22nd with a score of 61.
"That's exciting because she gets to experience it like I experienced it as a freshman," Sarah said. "It's nerve-racking, but we get to both do it together. It will be fun."
Sophomore Hannah Davie (tied for 12th, 49) and freshmen Ava Van Inwegen (T-16th, 52) and Megan Haymaker (19th, 55) joined the Lawson sisters and Hadden on the Jaguars' state-qualifying team.
6A regional pushed back to Thursday
The final 6A regional was unable to be played as scheduled on Tuesday at Brookridge Golf & Fitness.
Shawnee Mission Northwest, SM North, SM East, SM West, Blue Valley Northwest and BV North will now play at 9 a.m. Thursday. The top three teams and top five individuals on non-qualifying teams will play at the state tournament on Monday at Mariah Hills Golf Course in Dodge City.