Kasunic wins Sunflower League meet, leads
SM

North to first place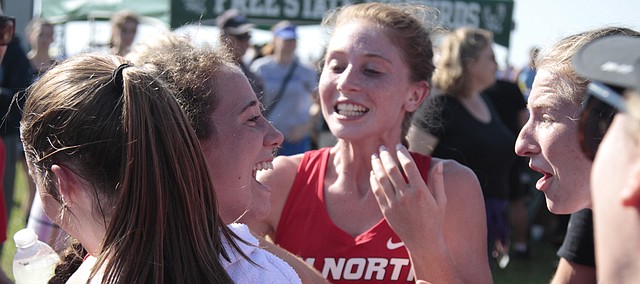 Lawrence — Shawnee Mission North junior Katie Kasunic didn't need to be reminded of the last time she ran at Rim Rock Farm.
After not being able to finish at last year's state meet, Kasunic wanted to make that experience a distant memory as she spiked up for the Sunflower League meet on Friday. Kasunic put the 2016 state meet in the rearview mirror just like she did with her competition on Friday, as she won the meet and led the Indians to a Sunflower League title.
"I honestly have no words. I just kind of went in here saying, 'OK, I'm going to finish this time,' because last time I fainted," Kasunic said. "So that was kind of rough. I think I totally destroyed the course. I'm so proud that I went out there and just went for it. It felt great."
Kasunic had plenty of help in securing the league championship for the Indians. Seven SM North runners finished in the top 30 between Kasunic, Keagan Stiers (fourth place, time of 20:13.6), Cassie Raines (fifth, 20:19.9), Cassie Davis (12th, 20:40.5), Molly Ryan (16th, 20:46.7), Abby Onnen (19th, 21:09.3) and Caroline Colburn (27th, 21:23.6). The Indians edged Olathe North by four points for first place.
"I am so proud of all of us," Kasunic said. "We've been kind of tipsy-topsy throughout the entire season. Some of us have been injured. I think we just all really came together this race."
With 1,000 meters to go, Kasunic could see Olathe North senior Claire Fuhlhage in front of her, but she still had some ground to make up. The SM North junior trailed Fuhlhage by about 25 meters as she made the climb up Cemetery Hill and gradually began to cut down the gap. Kasunic made the pass at the top of the skyline with about 400 meters to go, and dropped the hammer to win the race by 23 seconds.
"I could tell that she was burning out a little bit, so I was like, 'OK, I just got to keep my pace going,' and I did," Kasunic said. "I felt so good to go down that stretch and just finish it. It was probably the best feeling in the world."
The SM North boys followed up the strong showing by the girls team with a second-place finish. The Indians and Eagles both finished with 89 points, but SM North took second based on a sixth-runner tiebreaker. Sophomore Austin O'Dwyer (47th place, time of 17:57.2) finished five spots ahead of Olathe North's sixth runner, Bramwel Kosgei, to make the difference.
While the tiebreaker was based on each team's sixth runner, the effort of SM North's fifth runner, Ben Tyrrell, is what stood out most in locking up second place for the Indians. Tyrrell collapsed with 10 meters to go, but mustered up the strength to crawl to the finish line. The SM North senior still hung on for 37th place with a time of 17:49.8.
The top four finishers for the Indians all medaled. Joseph Coddington led the way with a seventh-place time of 16:54.8, and Asher Molina was close behind in 10th at 16:58.3. The duo of Logan Jiskra and Blake Taylor then finished side-by-side in 17th and 18th with respective times of 17:20.9 and 17:21.2.
"I'm feeling pretty good. I know Asher was just right there behind me," Coddington said. "This season we've struggled with only one of us having a good day, so that was good for both of us. One of our runners, Ben, collapsed, but he finished, though. He gave it his all."
Coddington was running with the state meet, which will also be at Rim Rock Farm, on his mind. The SM North senior wasn't pleased with how he finished the race, but he felt good about the race strategy that he went with.
"In the last 1K I kind of fell off, but I was kind of pushing the pace," Coddington said. "I was treating league as kind of like a dress rehearsal for state and kind of getting the feel of it."
One of the runners who passed Coddington in the final 1,000 meters was his good friend Michael Scott, of SM Northwest. Scott clocked in at 16:51.4 to earn a fifth-place finish.
"Top 10 is great, but last year I got sixth," Scott said. "I got fifth this year, so I'm happy that that was an improvement."
Scott was shocked to hear that he didn't start off the race as fast as he had hoped in the first mile, but that fueled him the rest of the way.
"Well in the first mile, I thought I was kind of far up. Then I got my mile split and it was a 5:25," Scott said. "So that's like way slower than I'm used to. Just throughout the race, I'm thinking I've got to pick it up if I want a good time. So I just kept going and then at the end I didn't plateau like usual. It just felt good."
The SM Northwest senior had formed a dynamic duo with junior Ben Harrell at the beginning of the season, but Harrell was forced to be a spectator at the league meet due to injury. While Scott has missed running with Harrell in recent races, he's been pleased with the progress of his teammates. Senior Luke Sabus and Spencer Kaleko ran to top-25 finishes after placing 23rd and 25th, respectively, with times of 17:33.5 and 17:35. Junior Jackson Burnett and Caleb Masters weren't far behind in 29th and 34th place with respective times of 17:39.6 and 17:44.8 to round out the top five for the Cougars.
"We really got the mindset when Ben left," Scott said. "It was kind of sad, but everyone knows that if we need to do good at state and regionals, we just all need to step up our game."
Injuries have plagued the SM Northwest girls throughout the season as well, but they have remained positive during difficult times. The Cougars were still without two-time defending league and state champion Molly Born as she continues to recover from a navicular stress fracture in her right foot.
Born has been able to start building up a base again over the past three weeks, but will not be competing at the regional meet next week for the Cougars according to assistant coach Justin Stigge. While Born was still sidelined, SM Northwest's second runner for most of last season was back in action in Gracie Goodpaster.
Goodpaster finished fourth on the team and 52nd overall with a time of 22:25.4, but her presence rubbed off on her teammates. Sophomore Amy Kowalczewski kept pace with Goodpaster for the first half of the race, and went on to lead the Cougars with a time of 21:41.8 to take 35th place.
"Me and Gracie stuck together at the beginning, and that was really helpful with just keeping a solid pace," Kowalczewski said. "Then we started to push it toward the end. Going into the race, I wasn't really sure what to expect because I haven't had the best season, but this was good."
Kowalczewski has been encouraged by the improvements of varsity newcomers like Grace Miller (43rd, 22:01.1), Catie Wood (46th, 22:05.5) and Sydney Van Horn (57th, 22:36.8), who helped the Cougars to 10th place.
"We're definitely starting to push it, and I felt really good for this race," Kowalczewski said. "So I'm excited to see what we can do for regionals."
The Cougars and Indians will both be competing on Saturday in the Class 6A regional at Johnson County Community College. The girls will run at 9:35 a.m., followed by the boys at 10:45 a.m. The top three teams will advance to the state meet, which will be on Oct. 28 back at Rim Rock Farm. The Indians and Cougars will be joined by Harmon, Lawrence High, Olathe Northwest, SM East, SM South and SM West at Saturday's regional.