Automotive Advisers: Tips for getting your car ready for winter weather
You're a good driver. You use your turn signals, buckle your seat belt and even change your oil on a regular basis. But in winter months, low visibility, a patch of black ice or blizzard conditions could easily throw you off — and be the difference between you getting home safely, getting delayed or getting in an accident. Although it's been a few years since we've had a massive snowstorm in Shawnee, it's still a good idea to plan for what could happen over the course of the unpredictable Midwestern winter.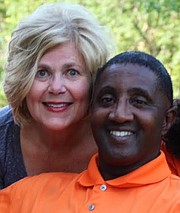 Precautionary car checks for cold weather
Just as your home and wardrobe require some prepping for winter, so does your car. For starters, your coolant should be adjusted for cooler weather. You'll need the correct mixture of antifreeze and water to prevent the fluid from freezing in your radiator, which can in turn freeze the engine and cause serious damage. The correct coolant ratio is usually 50 percent antifreeze to 50 percent water for colder months. You can purchase a tester at your local auto parts store or simply visit your auto-repair shop for assistance.
Frigid temperatures put additional stress on your engine, so it's even more important to stick to your oil-change timeline. Generally, you should have the oil changed every 3,000 to 5,000 miles (we suggest referring to your owner's manual for your manufacturer's specific recommendation). During these routine visits, check with a trusted expert for the recommended oil viscosity range for winter for your car.
Winter weather can also reduce a battery's lifespan. It's a good idea to scrutinize the battery and its cables before the cold settles in, keeping an eye out for breaks, cracks and battery fluid levels. Catching battery issues early will help ensure your car starts — and the heater kicks in — during the chilliest months of the year. Many automotive repair shops will check your battery for free.
Additionally, visibility is always key when navigating your car, but it becomes all the more critical, say, during a blizzard. To ensure good lines of sight, make sure your wiper blades are in good condition and the wiper fluid is full of concentrated washer fluid. Using diluted washer fluid or water as "wiper fluid" will cause wiper components to freeze in Kansas winter weather.
Preventative measures to avoid slipping and sliding
Shoes are to feet as tires are to cars. So, when dealing with slippery roads, more tread means more traction, making for a safer ride. This is why you should examine your car's tires for wear before winter. For an easy and trustworthy at-home test, stick a penny in the tire's tread. If you can see all of Honest Abe's head sticking out, it's time to get new tires.
Practice Regular Car Maintenance Year-Round and Always Be Prepared
The brisk months aren't the only time your car needs attention—it's also recommended to perform maintenance when your car hits 30,000, 60,000 and 90,000 miles (see your owner's manual for guidance). Milestone maintenance check-ups are obviously far less frequent than routine or seasonal maintenance; however, they are critical to keeping your car on the road, and safely so, for the long haul:

30,000 miles: This is the point when you or your technician examines your car's belts and hoses, and replaces them if necessary. As with oil changes, you'll want to check your car's fluids, be it coolant or power steering fluid, and top them off as appropriate.

60,000 miles: Now is also a good time to start checking your battery, as they usually only last around 80,000 miles.

90,000+ miles: Your car has certainly been around town and beyond, so at this point it's a good idea to get a full transmission and engine evaluation. For many cars, it's time to replace the timing belt, which is essential to maintaining the health of your engine.
Last but not least, emergency kits are wise to have in any season. Things to pack for winter include: warm clothes; blankets or a sleeping bag; flashlights with extra batteries; a shovel; an ice scraper; flares or reflectors; salt; sand or cat litter for traction; a first aid kit with a pocket knife; matches; candles; booster cables; and water and snacks.
From winter preparedness to routine mileage maintenance, it's best to stay proactive and catch minor car problems before they turn into a major cold-weather complication or inconvenience. This will help keep you warm, safe and sound as you come and go in the season ahead.
— Scott and Tammie Green own Christian Brothers Automotive in Shawnee, 22240 Midland Drive
More like this story