Quilting lies at the heart of western Shawnee church's celebrations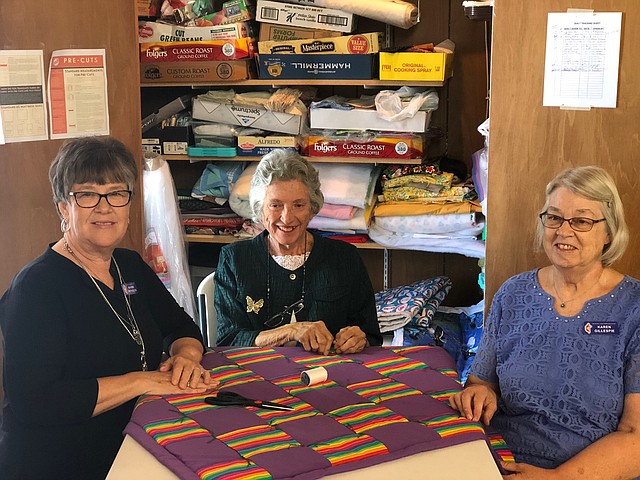 If you've ever attended an event at Monticello United Methodist Church, there's a good chance quilts were involved. Quilting plays a big part in celebrations at the 152-year-old church.
Quilts will be featured prominently at the United Methodist Women's annual "Souper" Fall Festival and Quilt Show 10 a.m. to 2 p.m. Saturday, Nov. 4. Monticello UMC is located at 23860 W. 75th St.
Admission to the quilt show is free, with all donations from the lunch and craft sales going to UMW mission work.
"Quilting is an old art and a tradition that was carried down in the church as long as I can remember — 70 years plus," said Sandy Evans, co-chair of the quilt show.
Located three blocks west of K-7 in western Shawnee, Monticello UMC was organized in 1865 at the close of the Civil War. Many descendants of the church's founders are members.

During the church's 150th celebration in 2015, congregation members displayed family heirloom quilts in the church's chapel, built in 1879. The quilt show proved so popular, the church held another at last year's festival. Susan Mercer is organizing a Quilts of Valor tribute to honor veterans at Monticello UMC on Nov. 11.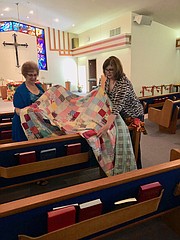 The church's quilters have gathered every Wednesday morning since 2009 for a meeting of the UMW service organization Doing for Others. Quilters make twin and lap-size quilts. Monticello UMC's Congregational Care team takes the quilts to newborns and people who are home-bound, in a hospital or in a nursing home.
Doing for Others gave away 86 quilts last year. All materials except batting are donated.
"This type of quilting is simple quilting — just layer, tie and bind," Karen Gillespie, Doing for Others founder, explained. "A lot of people like to work with their hands, and this is just a good way to reach out to others and let someone know we care."
Interest in quilting grew when master quilter Tacie Walser moved to Shawnee from Enid, Okla., in 2015 and joined the church. She started quilting in 1965 after a woman from her church taught her how to make a quilt from a pattern published in the Kansas City Star. Walser and Doing for Others made a quilt for last year's festival. This year she made "Pinwheel Delight" for the Silent Auction. Proceeds will go to mission work.
The "Souper" Fall Festival and Quilt Show quilt show on Nov. 4 will feature more than 50 antique and new quilts. UMW members have been making jewelry, accessories, holiday decorations, frozen casseroles and baked goods.
Lunch will be served from 11 a.m. to 1 p.m. Taco soup, chicken noodle soup, cowboy bread, sheet cake and drinks are on the menu for a suggested donation of $6 for adults and $3 for children.
"This is one more way for the whole community to gather and share our rich Shawnee heritage," said Pastor Connie Wilson.
For more information about the church and upcoming events, visit monticello-umc.org or call the church at 913-441-1435.