Shawnee city council sets Westbrooke incentives public hearing for Nov. 13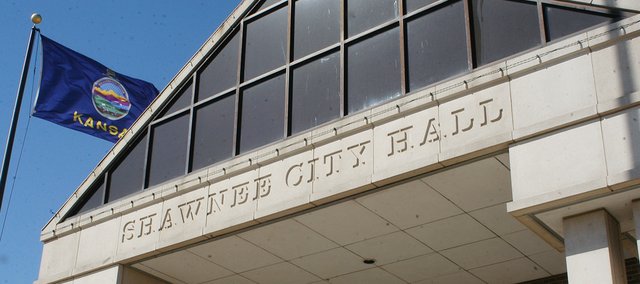 Next month, Shawnee residents will have an opportunity to offer their two cents about a proposed mixed use development intended to replace the deteriorating Westbrooke Village Shopping Center.
Last week, the city council voted to hold a public hearing at its Nov. 13 meeting to consider establishing a tax increment financing redevelopment district at the northeast corner 75th Street and Quivira Road.
For the $113 million project, developers are seeking $25.3 million in financial incentives from the city. They include $19.7 in TIF financing and $5.6 million from a 1.5 percent Community Improvement District.
The mixed-use project, titled Westbrooke Green, plans to feature 108,500 square feet of high-end shops and restaurants, as well as 530 luxury residential units.
It will feature a community courtyard and a 20,000 square-foot specialty grocery store, such as Whole Foods, for example.
Apartment buildings will range from four to five stories.
Since details about the project have emerged, residents living close to the nearly-vacant shopping center have already started to express concern.
At a neighborhood meeting held about the Westbrooke project on Oct. 4 at the Shawnee Civic Centre, a few residents told the Dispatch they were unhappy the project included apartment buildings, they were alarmed by the heights of the buildings and they worried about an increase in traffic in the area.
A couple residents also mentioned they were against the city approving financial incentives for the massive project.
Council considers delaying public hearing
Before approving the public hearing date for Nov. 13, the governing body had considered delaying it until January.
Councilman Mike Kemmling broached the subject at the Oct. 9 council meeting, saying it might make more sense to delay the public hearing, and any subsequent vote on the Westbrooke Green project, until newly elected council members could be part of the process next year.
In a few months, the council will seat two new faces, and possibly a third.
Ward 4 councilman Brandon Kenig and Ward 3 councilman Jeff Vaught both lost their seats in the primary election this summer, guaranteeing two new council members in January. Also, Ward 1 councilman Dan Pflumm faces competition in the general election on Nov. 7, less than a week before the Nov. 13 Westbrooke public hearing.
Kemmling said he thought the new council established in January should be the one voting on such an important project.
Councilman Eric Jenkins agreed, saying, "I think it's a very good point. This is probably going to be a very contentious issue and one that is going to have an awful lot of citizen interest, so I think it would be appropriate to postpone it when we have our post-election council here."
But several other members of the governing body disagreed.
"We still have folks who, even though they won't serve after January, are duly elected to serve through the end of their term," said Councilwoman Stephanie Meyer. "So I don't want to see us get into a place where we stop all government business because faces are going to change."
Vaught agreed, adding, "I was elected to serve a term and that term doesn't end until January, so I have every right to vote on every issue that comes forward."
The long transition period is a new situation for the governing body this year.
The state legislature recently switched city elections from the spring to the fall, creating a timeline where council members who lose their seat in the August primary hold their seat for six months, until their successor takes over in January.
In response to Meyer, Kemmling pointed out that he never said all government business should stop during the six-month lame duck period; he just believed the Westbrooke Green project was one worthy of being postponed until the new council could vote on it.
Meyer still disagreed, arguing that the council shouldn't pick or choose which issues it deems are more important.
"I think it is a bad precedent to set that we're deciding that some projects rise to the level that we're waiting for new council members," she said. "These folks have been elected just like the rest of us and they should get to serve out the rest of their terms. I don't think it's fair to the folks who own the property...to decide we're just going to shut down government because it's an issue that might be controversial."
A couple Shawnee residents from the audience also spoke up in hopes the council would postpone the public hearing, but for other reasons.
Mike Pezza, who lives near the project, told the council he believed residents needed more time to review the Westbrooke Green project details, so they could make an educated opinion and have time to get involved in the process.
"This is a very big decision and it's a disservice to the citizens of Shawnee, in my opinion, to rush this type of project through," he said.
Ultimately, the council chose to go ahead with the Nov. 13.
Kemmling and Jenkins were the dissenting votes.
The public hearing will be held at 7 p.m. on Nov. 13 at Shawnee City Hall, 11110 Johnson Drive.