A teenager could become Kansas governor; four of them show off political skills at Lawrence forum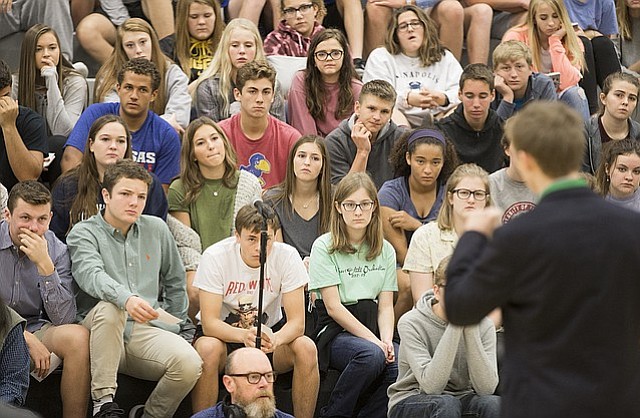 TOPEKA — Many people scoffed earlier this year when they realized Jack Bergeson, a 16-year-old high school student from Wichita, had filed paperwork with the Kansas Secretary of State's office to run for governor.
More recently, the scoffs turned to guffaws as three more teenagers took the same plunge. In September, Tyler Ruzich, 17, of Prairie Village, got in the race. He was later followed by Ethan Randleas, 17, of Wichita, and Dominic Scavuzzo, 17, of Leawood.
Their candidacies were made possible by a quirk in state law. Kansas is one of only a handful of states that has no age requirement for a governor. Still, many people speculated that the teens were pulling a prank, exploiting an oddity of the law to get a few moments of media attention.
But during a forum Thursday at Lawrence Free State High School — which may have been the first candidate forum of the 2018 election cycle — those four teenagers showed that their candidacies are anything but a joke, and that they are sincerely trying to focus the campaign on issues affecting youth, and hopefully inspiring their peers to get involved as well.
They also showed that they've done some homework on many of the major issues confronting the state of Kansas.
"Our state has no requirement for statewide elections," Bergeson said during his opening remarks. "And I wish to take advantage of this unusual circumstance to run a principled campaign that will be focused on representing all Kansans, and not just the few."
Bergeson, who is running as a Democrat, said if elected, his first priorities would be to raise the minimum wage to at least $12 and hour, and possibly $15.
"Raising the minimum wage to a livable wage, contrary to belief, is not detrimental to the state economy," he said. "In the 29 states in which the minimum wage has been raised, there have been no noticeable spikes in unemployment. Additionally, a higher wage would likely raise thousands out of poverty."
Ruzich, who is running as a moderate Republican, demonstrated one of the most basic of political skills when he tried to connect with the audience by sharing his own personal history.
"I know what Brownback's budget cuts have done to students like me and students like you," he said. "I grew up in a family that had next to no money. I was born in a very, very poor situation and took financial responsibility, being smart with money and being responsible."
Randleas, a more conservative Republican who described himself as libertarian, made his appeal to natural adolescent tendency toward independence and self-determination.
"It is about getting government out of your lives and letting you live how you so choose," he said, trying to summarize what libertarianism is about. "I am for legalization of marijuana. I am for a complete repeal of state-level corporate and individual income tax, personal and corporate, because it's your money to do with as you wish. It's not my money to play with."
And Scavuzzo showed that he has already learned how difficult it can be to unite a state as geographically and economically diverse as Kansas.
"We are a state with very powerful resources, we just don't know how to put them all together," he said. "We have agriculture and oil in western Kansas, the aerospace industry in southern Kansas, and an economic engine here in eastern Kansas. If we can find a way to unify all of us together, this could become a very powerful and vibrant state."
After their opening remarks, the four candidates took questions from students who used their social studies period to attend the forum, and those students showed they were up on their issues as well.
Predictably, many of the questions focused on education and school funding. But Matty Johnson, a senior, questioned the candidates about the State Department of Education's "Kansans Can" initiative, which had been the focus of a Lawrence Journal-World story that very morning, but one which the four candidates admitted they were not aware of.
"I think if they're running for governor, which I support their right to do so, they should really be up to date on the issues," Johnson said after the forum. "So I really wanted to figure out what their perspective was because this is a radical change in the educational system that has been proposed."
The candidates also fielded questions on topics ranging from transportation funding and health care to abortion and LGBT rights.
Ella Keathley, the Free State junior who organized the event, said she was inspired when she learned that four of her peers had taken the initiative to get personally involved in the race.
"I personally did not have any political interest or idea that I could be involved until now," she said. "This really sparks something inside of me, and it really inspired me personally, and I hope that it can inspire other students to feel like they have a say, because it shouldn't be these older people who are dictating our future when it's our future as well as theirs."
Blake Swenson, the social studies teacher who helped organize the event, said afterwards that it exceeded all of his expectations.
"You want to engage the students in current events, present-day topics, and get them learning about civic engagement," he said. "That's one of the things we're trying to focus on, that students have agency within the system. I think showing them that there are people not only engaged in the system, but actually running for office, maybe at the very least will get them inspired to participate and vote. And there's also just the critical thinking skills involved, talking about legislation and thinking about these ideas."