The word 'collaboration' is often used when people talk about the Shawnee Mission School District's new Center for Academic Achievement.
The massive glass building houses both administration and the district's signature programs, allowing students and school officials to cross paths on a daily basis.
Last Wednesday evening, hundreds of people gathered to celebrate the opening of the achievement center, which sits where Antioch Middle School used to stand.
"This is a building guaranteed to impact the lives of students for years to come," said Kenny Southwick, Shawnee Mission interim superintendent, to the crowd. "The Shawnee Mission School District has a long legacy of excellence. We're on a terrific course and we won't stop in our pursuit of greatness."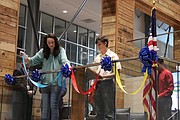 The energy efficient building offers collaborative learning spaces, integrated technology, tons of natural light and even a 'living wall' with live plants to clean the air and buffer sound.
The 70,000 square-foot facility also boasts the district's student-run bistro, which has a coffee and pastry bar open to the public every morning.
City leaders who showed up to the unveiling were pleased with what they saw.
One of them was Carl Gerlach, mayor of Overland Park and a 1972 Shawnee Mission South graduate.
He told the Dispatch he is continually impressed with how the district improves through the years.
"It's fantastic," he said. "It's a very attractive building and I like that it's environmentally friendly. We're excited it's in Overland Park."
Shawnee City Councilman Jim Neighbor agreed the building was extraordinary.
He was particularly excited that the building was energy efficient.
"We can't continue to burn coal and ruin the atmosphere," he said. "We need more buildings like this one."
Neighbor, who is married to Shawnee Mission school board member Cindy Neighbor, also said he thought it was great the new building allows all of the district's signature programs to be in one place. Beforehand, the programs took place at individual schools.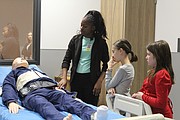 The district's signature programs are:
Animation and Game Design: Students learn the fundamentals of motion, graphics, principles of animation and problem-solving skills using state-of-the-art software and equipment.

Biotechnology: Students practice advanced skills in pharmacology, agriculture and bioinformatics, using advanced lab work.

Culinary Arts and Hospitality: Students in the culinary and baking programs run the award-winning Broadmoor Bistro, a full-service restaurant.

Engineering: The Project Lead the Way program shows students the scope, rigor and discipline of engineering careers, using real-world problems and digital technology.

Medical Health Science: This pre-med program, featuring rigorous math and science components, offers exposure to medical careers through tours, speakers and shadowing.

Project Blue Eagle: Students are exposed to career paths in law enforcement, firefighting, EMT and the legal profession, using history and hands-on experience.
Many students at the grand opening told the Dispatch they love the new space.
"I like the professional feel of it," said Tom Phillips, a senior at Shawnee Mission East, who is also in the Medical Health Science program. "There's a lot more room, which allows us to have better technology."
Fellow Medical Health Science student Marya Howell, a senior at Shawnee Mission West, agrees.
She told the Dispatch she's grateful the Shawnee Mission School District offers such specialized studies.
"It's given us a chance as high school students to be professional and grow and mature," she said. "It's opened up a lot of opportunities we normally wouldn't have otherwise."
August marked the first time students walked through the doors of the achievement center to learn. But the building opened to administration in April.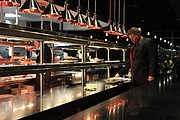 Having the students there now gives it a boost of energy, said Christy Ziegler, assistant superintendent.
She pointed out that now more than 200 kids go in and out of the building every day.
"There's a different feeling here because now administrators get to interact with the students just walking through the halls and the kids who come here get to see things they normally wouldn't see, like people coming in for job interviews or for training sessions," she said. "Students are being very respectful of the space."
With the district continuing to grow, as its population nears 28,000 students, many officials see the new building as a sign the district is on the right track for the future.
"The demographic of the district has dramatically changed over the years but they're working hard to help each student succeed, with more of an individual emphasis," Neighbor said. "To see how they're meeting the needs of the community is encouraging."