Ultimate fun: Kids enjoy new area frisbee league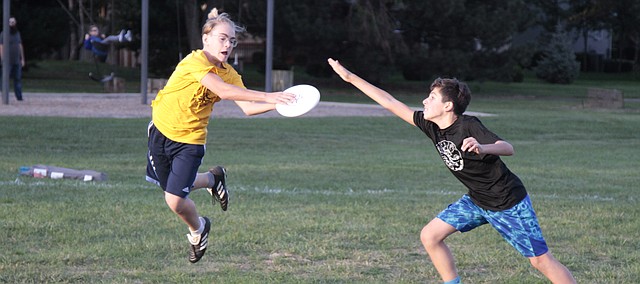 Lenexa — Sports have often served as an outlet for parents to bond with their children, and that has been very apparent this fall on Wednesday nights at Electric Park.
After Matt Babler and a few of his friends held a kids ultimate frisbee clinic last fall, they decided to take it one step further and start a league this year — the first of its kind in the Kansas City area.
"Last year the kids got frustrated because we'd do these drills. We'd be scrimmaging, practicing, but not competing," Babler said. "That's what they wanted was more competition. As soon as we got the league started and actual teams. We've got probably twice as many kids I think because we made it a little more fun and competitive. That was the whole goal, and it's worked out perfect."
The league, which has met on Wednesday evenings this fall, has four teams: the Black Widows, the Yellowjackets, True Blue and the White Knights. Each team is composed of seven players.
"It's really fun because it introduces a sport that's not as popular around," 12-year-old Cooper Newkirk, a member of the Yellowjackets, said. "It has a lot of drama, and it's just fun to come out here with your friends and have fun."
Newkirk had some previous experience playing ultimate frisbee with Babler and his son, Alex, and daughter, Sadie, but several of the kids in the league are fairly new to the sport. While there are a lot of aspects that Newkirk enjoys about the league, there is one element of it that he really loves.
"The competition," the Rhein Benninghoven student said. "There may be kids of all ages, but it's very competitive and it's very fun."
The age range between the players in the league goes from 9 to 14. Although it is a goal of Babler's going forward to have a 9-to-11-year-old division and a 12-to-14-year-old division, there have been some fun aspects about having a big age difference in the league. One of the fun match-ups that Babler, the coach of the Black Widows, enjoyed watching earlier this season was when Cooper went up against his younger sister, Carson Newkirk.
"While she was guarding her brother, she shut him down and blocked him from catching a pass and it was great," Babler said. "The age thing has worked well in that regard, too, with the younger kids making some plays against the older kids."
The Black Widows coach has been able to mentor Alex this fall, but Sadie has suited up for Nick Semrau's True Blue squad. Sadie wanted to be on the same team as her coach's daughter, Macey Semrau, and she has loved her experience in the league.
"It's so fun," Macey, 11, said. "It's like football except for non-contact with like the way it moves. It's a really fun sport."
Ultimate frisbee is one of the many sports that Macey plays. She credited the stamina she gains from ultimate frisbee for helping her out in other sports.
"I swim, I do boxing, I do karate and starting strength training when this season ends," Macey said. "It (ultimate frisbee) makes you a lot faster, it makes you stronger and it helps with your coordination."
Along with the league being co-ed, another unique aspect of it and ultimate frisbee in general is that it is self-officiated.
"If there is a dispute — if someone says they got fouled, someone thinks they were impeded or whatever it is — the players have to work it out," Matt Babler said. "We've had plenty of those where there are a couple of kids that will bump into each other."
Babler added, "Cooper and Alex both caught one earlier at the same time. They looked at us (the coaches) like, 'What do we do?' You figure it out. They talked and then they ended up doing roshambo to settle. It was a pretty even tie, so that will work. That spirit of the game is a clause in the rules that says players have got to figure it out and act fair with sportsmanship and all that."
While sportsmanship has been a key element in each game, Babler said there are different skills that he sees each week that all of the kids can improve. Before the league games, Babler has conducted 30-minute clinics to focus on specific skills and said that it has paid off.
"We did a topic (in the clinic) and all of a sudden that week it looked better. The team looked better," Babler said. "Individually the players were better. Being a teaching league, we had to do that. It's been great how much they've learned."
Even the kids who have a great deal of ultimate frisbee experience indicated that the league has been beneficial.
"I've been playing since I was 4, but this league has helped me," 10-year-old Hudson Casady said. "I'm a lot better now."
Casady also picked up the sport from his father. All four coaches — Matt Babler, Nick Semrau, Cameron Bond and Justin Richey — have children that play ultimate frisbee.
"Maybe about a third (of the kids in the league) are sons or daughters of people who have played ultimate in Kansas City," Matt Babler said.
Babler credited a lot of different people for helping him launch the league, but wanted to specifically thank the Lenexa Parks and Recreation department for letting the kids have the fields at the Electric Park to play on.
"Jeremy Reimer is the Lenexa Parks and Rec (Recreation Supervisor). He's the one that lines these fields," Babler said. "He came out here and we met and talked about just making this available and he's been promoting it as best as he can. Lenexa has been great to work with."
Although the league will wrap up Wednesday with its last games of the fall, the interest in it has prompted Babler to organize another one in the spring. Babler hasn't finalized the details for the league this spring, but anyone interested in it can reach out to him at matthewbabler@yahoo.com.
"Same thing in the spring," Babler said. "We're hoping frankly that there are more kids."