Meet Ward 3 candidate Justin Adrian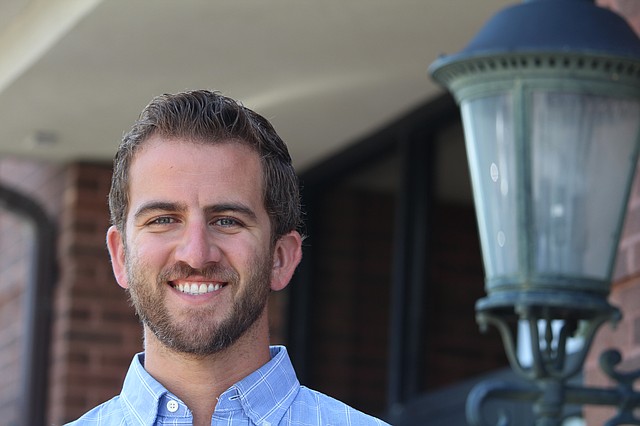 Justin Adrian, a married high school teacher, told the Dispatch he is running for city council because he sees a lot of untapped potential in western Shawnee.
If elected, he would seek to bring more commercial development to the area, particularly more locally-owned businesses and another grocery store.
"We need to bring in smart local growth and be more selective when it comes to new residential or commercial development," he said. "For the city to grow and flourish, we need to have an updated vision for western Shawnee that is innovative."
He also told the Dispatch the city needs to create a vision for the future that encompasses the needs of a changing society, with a variety of accessible housing, entertainment and recreation options.
Here are his answers to the Dispatch questionnaire:
There has been a lot of controversy regarding the role of incentives in development in Shawnee lately. What role do you think taxpayer money should play to support private sector development? What kind of projects would you consider "worthy" of incentives, such as Tax Increment Financing or Community Improvement Districts?
The city of Shawnee receives $3 million each year from Waste Management as an impact fee for the operation of the landfill; $1.5 million of this money goes towards economic development. No other city in the county receives an impact fee like this.
I believe that taxpayers should be involved in the decision-making process when it comes to supporting private sector development. The city holds hearings and allows public comment when these situations are presented.
Areas in which the land is difficult to develop, agreeing on a TIF would be beneficial to bring development and future sales/property tax.
The city of Shawnee will soon be going through the process of hiring a new city manager. What qualities and qualifications would you like to see in the next person who fills that role?
When hiring for a position like a city manager, it is important to seek out a person who will keep our city progressing.

Residents have an inherent need to see progress.

A candidate for city manager should be looked at solely for their vision for our communities future and their proven history of success in municipal management and fiscal responsibility.
Their values should align with what the citizens want; smart economic growth.

The new city manager should have experience in managing a city with diversity and should have the desire to work with all citizens and bring the necessary improvements to keep our city moving forward.
Across Johnson County, mixed use developments featuring retail, restaurant and multi-family residential units are being constructed, to accommodate what is considered a growing need for millennials and baby boomers who don't want to be homeowners. The City Center neighborhood in Lenexa and Prairiefire district in Overland Park are prime examples. Developers are also proposing a mixed use project at the Westbrooke Village Shopping Center location at 75th Street and Quivira Road in Shawnee. Do you think mixed-use development has a place in Shawnee? What type of developments should the city be attracting?
Yes, mixed-use development has a place in Shawnee.
Areas with only commercial development, i.e. strip malls do not work for cities; mixed-use development is a trend with proven success offering a snapshot of what a progressive city of the future looks like.
The city should attract developments that bring residents and consumers to one place, like other developments have in the county.
Development that incorporates green-space and is eco-friendly is important to residents. Millennials and baby-boomers are moving to areas that offer maintenance-free living; downtown KC, Mission, Lenexa, etc.
We have to recognize that we have seen mixed-use development work in other cities, and it is important for the city to continue moving into the future with development of this type.
What do you feel are the three biggest issues facing Shawnee? If elected, how would you address those issues?
The first issue that I see facing our city is a geographic divide. Shawnee is a large city that encompasses many diverse neighborhoods. The city needs to continue working on bringing the city together, not just focusing on one side or the other for improvements and development.
Second, the city has a low commercial percentage of property tax, compared to cities like Lenexa and Overland Park. The city needs to bring more commercial and industrial development in areas currently zoned for these projects. The city has grown in the last ten years, yet many are afraid of losing out on future development to neighboring cities.
Third, there is a stigma with the word 'multi-family' in the context of development and what it means to residential neighborhoods. Multi-family housing does not always mean apartments, and in fact Shawnee is limited in true multi-family housing in some areas.