Mill Valley girls cross country finishes second at Greg Wilson Classic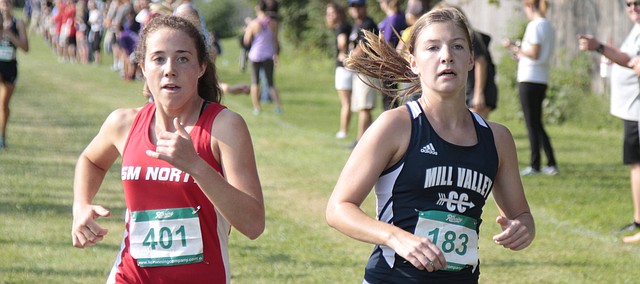 Overland Park — Going into her first race of the season, Mill Valley senior Britton Nelson didn't have a specific strategy for the Greg Wilson Classic on Saturday at Johnson County Community College.
Nelson consistently finished in the top 10 of the Jaguars' meets last year, but she wasn't used to racing against most of the girls that went out in the lead pack on Saturday with Blue Springs and Blue Springs South's top runners setting the pace. The Mill Valley senior started to settle in during the second mile of the 5,000-meter race, though, and had a few teammates that helped her along as well.
When all was said and done, Nelson, sophomore Morgan Koca, junior Delaney Kemp and sophomore Molly Haymaker found themselves in the top 20, which helped power the Jaguars to a second-place finish.
"I just really had to have confidence in myself," Nelson said after her seventh-place individual finish. "I wasn't really sure of myself of where I was going to be able to compete at, so I just started off where I felt comfortable and realized I could do more. So I started picking people off and pushing harder."
Nelson clocked in with a time of 19:53.6, and Koca and Kemp weren't far behind. Koca and Kemp placed eighth and 10th with respective times of 19:55.5 and 19:56.1. Nelson has been particular pleased with the progress that Koca has made since this point last year.
"I'm so proud of her because she's come a long way. She's just doing awesome right now," said Nelson of Koca. "It's just great to have other people to run with and that you know and that you work hard with every day, so that's awesome to see and be a part of."
Haymaker was the fourth and final Jaguar to earn a medal after finishing in 17th place with a time of 20:18.1. The top seven runners for the Jaguars all finished in the top 50 with sophomore Jenna Walker (43rd place, 20:54.8) and freshmen Molly Ricker (44th, 20:55.9) Josie Taylor (49th, 21:16.6) following Haymaker.
Nelson felt that the Jaguars' strong performances across the board was a reflection of the mileage that they put in over the summer.
"I think we did awesome. We've been working super hard," Nelson said. "Our coaches are really proud of us and we're really proud of each other. We're really happy with how we started off our season."
The Jaguars finished with a team score of 80 points. Blue Springs won the meet with 52 points.
Terry takes charge for MV boys
The Mill Valley boys squad also earned a top-five team finish after taking fourth with 118 points.
Sophomore Jack Terry led the way for the Jaguars with a time of 16:16.5, which was good for ninth place.
"Today I just kind of pushed through it," Terry said. "I didn't have a very fast start, but I kind of settled to just pick people off and somehow ended up where I was."
Junior Greg Haynes was one of the most consistent performers for the Jaguars in 2016, and he turned in another solid finish in his 2017 debut. Haynes crossed the finish line with a time of 16:21 to finish in 12th place.
The Jaguars only had a 16-second gap between their No. 3 and 5 runners. Darius Hightower (27th place, 16:57.3), Justin Grega (31st, 17:05) and Gavin Overbeck (39th, 17:13) rounded out the top five for Mill Valley.
"We set the tone for the season with this race," Terry said. "We can do great things this year. We're pumped up now."
Eastern Kansas League foe St. Thomas Aquinas won the boys race with 56 points.
Kasunic paces SM North girls
After having a firm grasp on the No. 2 runner spot last season, Shawnee Mission North junior Katie Kasunic was ready to step up and be the front runner for the Indians heading into this season with Amber Reed now at Wichita State.
However, there was some doubt in Kasunic's mind whether she would be able to lead SM North on Saturday after she suffered a minor injury in practice. Kasunic was able to put mind over matter, though, as she ran to a sixth-place time of 19:49.6.
"I actually rolled my ankle last week on Thursday, so I was really nervous going into this race like how I was going to do because I hadn't done any workouts," Kasunic said. "But I wanted to break 20 (minutes), and I did. So it was good."
Kasunic guided the Indians to fourth place in the girls team standings, but she had plenty of help. Keagan Stiers medaled with a time of 20:23.6 to take 20th place, and senior Cassie Davis finished two spots behind the SM North sophomore after clocking in at 20:26.5. While Kasunic is excited to see Stiers continue to emerge as one of the Indians' top runners, she was ecstatic about Davis' finish. Davis' time was nearly one minute and 30 seconds faster than what she ran at the state meet last year.
"Honestly, I'm so proud of her," said Kasunic of Davis. "She has improved so much since last cross country season 'til now since like track. She's been putting in the mileage, and it's been awesome to watch her improve."
Senior Molly Ryan (37th place, 20:47) and junior Caroline Colburn (38th, 20:50.7) rounded out the top five for SM North.
Kasunic felt like the race was a good starting point for the Indians, and believes that they can accomplish a lot this season if they can show some steady improvement.
"If we all keep in the one minute and 30 seconds (range) between each other (from Runners One through Five), I think that would be a great goal for us if we can keep that consistency," Kasunic said.
Coddington leads SM North boys
The SM North boys have some lofty expectations as well this season, and started off the 2017 campaign with a fifth-place finish at the Greg Wilson Classic.
Senior Joseph Coddington served as the lead runner for SM North after finishing 15th with a time of 16:28.5.
"It's kind of good getting the rust off the gears," Coddington said. "It's been a while since I raced, so it felt really nice."
Junior Asher Molina joined Coddington in earning a medal, as he clocked in at 16:40.4 to take 18th place.
"Asher and I were going pretty much back and forth the whole race up until the end," Coddington said. "I think we had a couple of guys under 17 (minutes). I think it was a really good start to the season. Hopefully we'll get some improvement later on, too."
Junior Logan Jiskra broke the 17-minute barrier with a time of 16:53.1, which was good for 25th place. Senior Ben Tyrrell (35th place, 17:10) and sophomore Austin O'Dwyer (45th, 17:20.8) also finished in the top 50 for SM North.
Harrell guides SMNW boys
Shawnee Mission Northwest junior Ben Harrell showed that his breakout track season wasn't a fluke on Saturday.
Harrell's time of 16:15.2 marked a big personal-best, as he ran to a seventh-place finish.
"I was really excited with how it went," Harrell said. "I think I dropped about 1:20 maybe from last year, so that was awesome. I wasn't expecting that."
The SM Northwest junior stuck with senior Michael Scott for the majority of the race, and it worked well for both of them. Scott also medaled after placing 13th with a time of 16:22.3.
"It definitely helped me," Harrell said of running with Scott. "It helps me so much because that's how I pace myself. I'm not really good at pacing myself, so I just try to stick behind him the whole time until like I can feel like I can try to kick it so that's what I did."
Senior Luke Sabus was locked in as the No. 3 runner for the Cougars by placing 32nd with a time of 17:05.9. Juniors Spencer Kaleko (51st place, 17:28) and Jackson Burnett (55th, 17:36.1) finished just outside of the top 50. The Cougars finished sixth in the boys team standings.
Miller shines for SMNW girls in XC debut
With SM Northwest senior standout Molly Born still recovering from a stress fracture, the opportunity to slide into the No. 1 spot for the Cougars was up for grabs in their first meet.
Junior Grace Miller stepped up to the plate for SM Northwest in her cross country debut. Miller finished 41st after crossing the finish line at 20:52.7.
"That was pretty thrilling because I quit volleyball for this so it was my first time competitively racing," Miller said. "It was just really fun for me to try something new."
Finishing right side-by-side with Miller was junior Riley Demo, who took 42nd place.
"Riley is always really awesome," Miller said. "I tried to follow her lead and I couldn't find her at first, but I saw her at the end."
Miller and Demo helped the Cougars to ninth place. Sophomores Catie Wood (58th place, 21:23.5), Amy Kowalczewski (72nd, 21:43.7) and Sydney VanHorn (74th, 21:46.7) completed the top five for the Cougars.
Hubert runs to big PR for DHS boys
De Soto junior Sam Hubert has been a big fan of the fast course at the Greg Wilson Classic over the past few years, so he didn't need much motivation to get ready for the Wildcats' first meet.
Hubert felt like a PR could be in the cards for him, but he far exceeded his expectations by placing 17th with a time of 16:35.8.
"That's a 30-second PR," Hubert said. "I PR'd first race last year, too. I'm really happy with how that went."
The De Soto junior was glad to reap the benefits of his summer training, and hopes that Saturday's race will be a sign of even better things to come.
"Over the summer I was putting in a lot of miles. I kind of upped my mileage to work on my stamina," Hubert said. "I felt like I was running out of gas at the end of races. I was able to kick pretty well today, and I was happy with that. That third mile went a lot better than it has in years past."
The Wildcats had a couple of upperclassmen that helped Hubert lead the way in senior Andre VanMeerhaeghe and junior Graham Hudelson, who finished 65th and 70th with respective times of 17:50 and 18:02.5. Hubert expressed his excitement for the underclassmen who ran for the Wildcats just before he cheered on senior Robbie Stallbaumer (101st, 20:04.8) to the finish line.
"We have a couple of guys stepping up that are small, little freshmen and they're standing up their on the (starting) line with a couple of guys that are 6-4, 6-5," Hubert said. "It's kind of a contrast, but yeah, they have talent."
Sophomore Jack Loomis (95th, 19:27), Henry Rotusek (96th, 19:28) and Keaton Higgins (98th, 19:47.3) rounded out 11th-place finish for De Soto.
Zade bursts onto the scene for DHS girls
While Hubert was talking about the potential of the De Soto freshmen, he also included Jordan Zade, who led the De Soto girls team to an 11th place finish.
The De Soto freshman took charge in the first 400 meters and held on for an 11th-place finish in her first high school race.
"I felt really good. I felt really strong in the first bit," Zade, who finished with a time of 20:05, said. "I'm tired, but you've just got to push through it. You've just got to run through it. I felt good."
Zade and fellow freshman Nicole Schottler (75th place, 21:50.8) have been take under the wings of varsity returners such as sophomore LaMyah Ricks (68th, 21:37.6) and senior Gabby Collins (73rd, 21:45.6) as they step up to the high school level.
"They just told me it's a fun race and just do what you do," Zade said.