Shawnee boutique celebrates milestone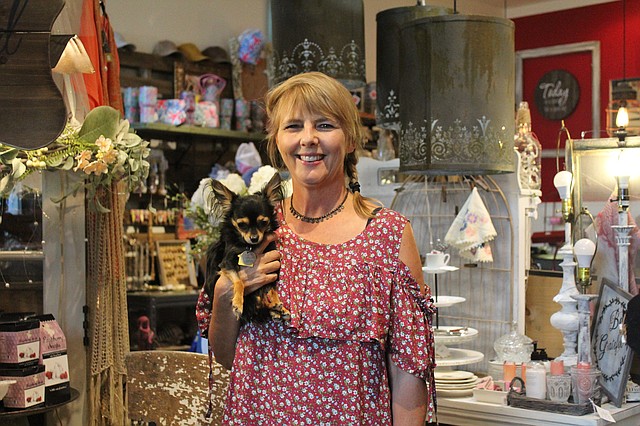 When she first opened the doors to her boutique, Beata Foreman was told by someone that the majority of small businesses close before hitting the four-year mark.
She's not sure if the statistic is accurate, but the casual remark stayed in the back of her mind.
This month, her shop, By B! Boutique, with its rustic farmhouse vibe, is going to celebrate its four-year anniversary.
And while the milestone may not seem like a big deal to some people, it's a huge one to Foreman, who still remembers that "four-year" quote.
"It (the quote) didn't surprise me because running a shop is a lot of hard work," she said. "My husband and I are here every single day. We eat and drink this shop. So, it was very important for me to thank my customers who were the ones who helped me make it this far."
Foreman is holding a birthday party for her shop from 5 to 8 p.m. on Sept. 13 at By B! Boutique, 6314 Monrovia Street.
She will offer refreshments, such as food and cake, and free gifts for the first 25 people who show up.
The Shawnee boutique's success has been the culmination of nearly two decades worth of hard work.
Fifteen years ago, Foreman was a stay-at-home mom with two young boys when she started making custom gift baskets to sell.
Her gift baskets became so popular, corporations from across the Kansas City area started reaching out to her, to create gift baskets for their clients and new employees.
She even held open houses out of her Shawnee home, which drew devoted fans.
When their kids left the house, Foreman's husband, Gary, convinced her to pursue her dream of opening up a boutique.
She kicked around the idea of opening her shop in the trendy Brookside shopping area or even Lawrence, but she knew her heart belonged in Shawnee.
In addition to her popular custom-made and pre-made gift baskets, By B! Boutique sells clothing, home decor, custom-painted furniture, and gourmet foods.
It also features clothing, jewelry and artwork created by local artists.
"Customer service is lacking in the world right now and it's the one thing the internet can't take away from small businesses," she said. "I wanted a mom and pop shop where I would know people's names and make beautifully packaged gifts."
By B! Boutique is also very active in the community.
On Aug. 26 Foreman held her third annual "Dog Days of Summer" event, in collaboration with LL Dog Rescue, a Kansas City area organization.
Customers brought their pooches and enjoyed refreshments, door prizes and had the opportunity to adopt a small dog, or become the foster parent for one.
This year, she is also partnering with Johnson County Christmas Bureau for its annual coat drive.
She also raises donations and donates gift baskets to Variety Children's Charity of Greater Kansas City, a nonprofit organization based out of Shawnee.
The first four years of running her boutique have been amazing, Foreman told the Dispatch, and she's looking forward to continuing to be a cheerful presence in the city she loves dearly.
"There has not been a single day I haven't loved opening the doors of my store," she said. "I'm lucky because the community has really embraced us and customer have become my friends."