Carroll scores twice to power Mill Valley soccer past St. James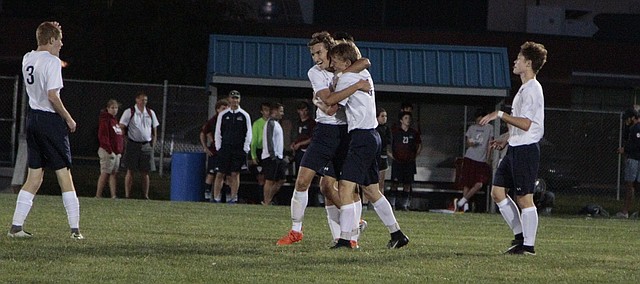 Mill Valley sophomore Ian Carroll scored in the Jaguars' first two wins over the season against Gardner-Edgerton and Shawnee Heights, and he found no reason why the trend shouldn't continue against St. James Academy on Tuesday.
On Saturday, Carroll tweeted, "I plan on continuing the win streak and goal streak on Tuesday," and he stayed true to his word by scoring both goals in the Jaguars' 2-0 victory over the defending Class 5A state champions.
"It's feeling amazing," Carroll said. "I was pretty confident coming into this game, and I just felt really good."
Carroll's first goal came in the 12th minute after he got on the other end of a through ball sent by junior Jake Ashford. After Ashford threaded the needle with the pass, Carroll didn't have much of a problem doing the rest.
"I took a pretty heavy touch in the middle and I saw the goalie coming out," Carroll said. "I saw the chip was there and I just went for it."
The sophomore forward added an insurance goal on a counterattack with 14.7 seconds remaining after the Thunder had pushed up in search of an equalizer.
"A lot of times guys that have a very successful freshman year, which he did (at junior varsity) and then moved up later in the season with varsity," Mill Valley coach Arlan Vomhof said. "He's just taking it all in and doing things well. He hasn't hit any of that sophomore syndrome that some guys do that really hurts them."
While the Jaguars have scored at least two goals in each match en route to their 3-0 start, they've also recorded three shutouts. Junior goalkeeper Aidan Veal has had plenty of help in front of him from the back line. The Thunder had their best chance with four minutes to play with scoring opportunity on the edge of the 6-yard box, but senior Kyle Franklin shifted over for the clearance.
"The defense is great with Kyle and Isaac (Knapp) back there," Carroll said. "They're monsters back there."
Although St. James was unable to the ball between the pipes, Thunder coach Rick Enna felt that his team put forth a good effort. The Thunder had plenty of scoring chances on set pieces between six corner kicks and a few free kicks. Enna believes that the Thunder will be able to capitalize on a few of those opportunities going forward.
"I just think the final third — we're not quite there yet in the final third. I think that's pretty much it," Enna said. "I think if you run into a solid defensive team like Mill Valley, you're going to have to create chances and we did. We created some opportunities.
"I thought Sam (Enna) and Francis (Nguyen) did well up top creating chances for our wings. I thought we defended well for the most part. We give up a few too many balls in the middle of the field, and I think that's what creates those chances for the other team. A good team like Mill Valley will take advantage of those mistakes at midfield."
The loss dropped the Thunder to 2-2-1 on the season. Enna was able to find out a lot about his team from the Fat Cat tournament, which concluded on Saturday. The Thunder took third place after defeating Olathe West and Harmon and losing to Blue Valley West.
"This is early in the year and the Fat Cat is always a good test for us because sure there are tryouts and then there is the Aquinas game, which is a big deal for us to start the year," Enna said. "The Fat Cat kind of helps us see where people are fitting in in the right positions. I think we accomplished that."
The Thunder and Jaguars will both have matches on Thursday against Sunflower League teams. St. James will square off against Olathe East at 7 p.m. at the College Boulevard Activity Center, while Mill Valley will take on Shawnee Mission Northwest at the same time at the Shawnee Mission Soccer Complex.