Vita Craft honored for educational support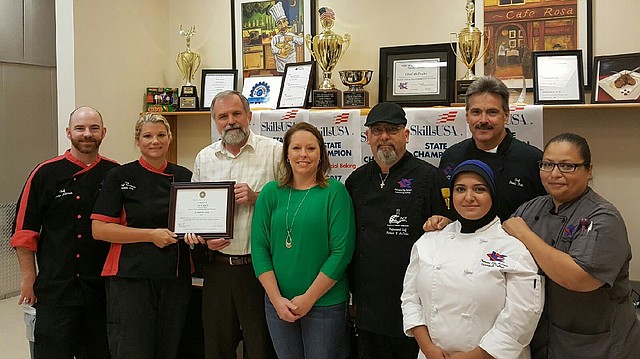 For more than a half- century, Vita Craft has been selling high-quality cookware around the world.
But last week, it was the Shawnee company's devotion to future chefs that put employees in the spotlight.
Vita Craft has been recognized by the state of Kansas as a Supporter Level of the Culinary Arts Program of Kansas City Kansas Community College.
The award highlights the special relationship between the cookware company and the school.
For the past four years, Vita Craft has toured KCKCC culinary students through its factory and gifting graduates with a pan to get them started on their career.
Vita Craft has also donated its commercial cookware line to the school and offers students wholesale prices.
Vita Craft was surprised with the award last week, after culinary instructors at KCKCC secretly nominated the company.
Karie Keeney, marketing manager for Vita Craft, said the company was humbled and honored by the unexpected award.
"We were totally surprised," she said. "It's neat to be able to show our employees 'this is what you're doing' because in the end, it's not just about a product, it's about a community."
KCKCC culinary instructor and chef, Richard McPeake, nominated Vita Craft for the award, telling the Dispatch that Vita Craft was a great company and he values its partnership tremendously.
Fellow culinary instructor Cheryl Runnebaum echoed his sentiment.
"It's very well deserved because they go above and beyond what many corporations would do," she said. "Their cookware is the best, it's amazing. It's durable, heats very evenly, cleans up well and it's very reliable."
Vita Craft's relationship with KCKCC isn't its only educational partnership.
For the past several years, Johnson County Community College has used Vita Craft's commercial cookware line in its innovation kitchen.
Plus, the Shawnee Mission School District's Broadmoor Bistro features $5,000 worth of Vita Craft commercial cookware in its brand new kitchen at the district's Center for Academic Achievement at 8200 West 71st Street in Overland Park.
Keeney told the Dispatch that Vita Craft pursued those partnerships after it released its commercial cookware line six years ago. The company hoped by donating cookware to local culinary schools, it would receive helpful feedback on its new line.
Vita Craft president Gary Martin told the Dispatch he is very pleased with the relationships the company has fostered during the past several years.
"It benefits the school and it benefits us because we're getting our product out there," he said. "We're planting seeds for the future because these students are our future chefs and restaurant owners.
"Hopefully they'll remember our products when they're famous."
In addition to its commercial cookware line, it's residential line is still going strong.
The company is a major exporter for the state of Kansas, shipping its cookware all over the world.
Vita Craft offers a lifetime warranty on its residential cookware, a promise it doesn't take lightly.
"We've had letters and phone calls from people saying they've had our cookware for 60 years, since they were in college or got married," she said. "If they break a piece and we can't fix it, we replace it, even after all those years."
Although the company is in Shawnee and has a presence all across the world, there are still many people in the Kansas City area who don't realize Vita Craft exists.
Keeney encourages residents to browse Vita Craft cookware at its factory outlet store, 5726 Nieman Road.
She also welcomes people to stop by for a tour.
"We encourage anyone to come see what's being created right in their own backyard," she said. "People can come take a tour and see our products up close."
For more information about Vita Craft, visit vitacraftusa.com.