Investigation continues after explosion and fire at
KC

Ice Center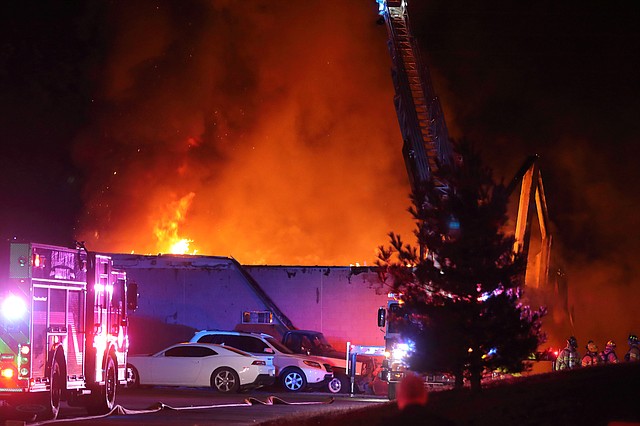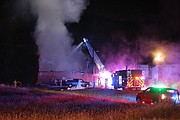 Shawnee Fire Investigators continue to investigate what caused an explosion and fire in a detached maintenance building at the Kansas City Ice Center building, located at 19900 Johnson Drive.
Firefighters from Shawnee and Lenexa were called at 4:45 a.m. on Wednesday, September 6, after an employee working at the facility heard an explosion.
In a news release, Shawnee Fire Marshal Corey Sands says, "a maintenance worker reported being inside the Kansas City Ice Rink Center and heard an explosion outside."
According to Sands, the worker went outside to investigate the sound and found fire coming from the roof of the detached maintenance building.
"He then called 911 and entered the burning structure to rescue his dogs prior to the fire department arriving," Sands said.
The worker was able to escape with his dogs and was not injured.
Shawnee Police and firefighters arrived to report the fire was coming from the building.
Sands says investigators, with the assistance of commercial construction equipment to bring down the compromised exterior walls of the building, began their investigation at daybreak.
"Shawnee Fire Investigators believe a possible leaking natural gas line that supplied the elevated space heaters caused the explosion and fire," Sands said. "Dollar loss is estimated at $750,000."
Sands added, "contrary to recent news reports, the Zamboni for the ice rink was not kept inside the detached maintenance building and was not the cause of this fire."
Operation 100 News was the first media outlet on the scene of this fire and did not report anything regarding the Zamboni, as those details were not coming from a fire official.
The fire remains under investigation.
---
Operation 100 News provides overnight news coverage for the Shawnee Dispatch. Follow on Twitter for real-time updates.
More like this story