De Soto tennis goes 2-0-1 at home quad against future league foes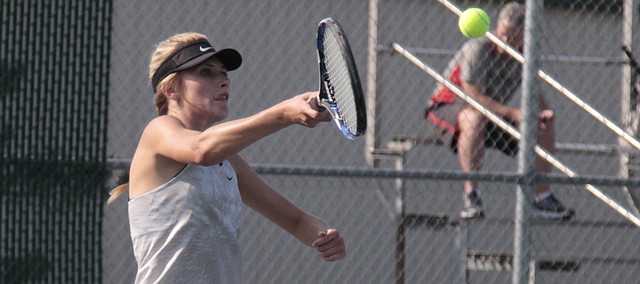 De Soto — The De Soto tennis team got a glimpse of what it will be like to compete in the United Kansas Conference next year at its home quadrangular on Monday.
The Wildcats went 2-0-1 against their future league foes, as they swept Lansing and Shawnee Heights and split their matches with Leavenworth.
"I'm really proud of the team so far. We're doing really good," sophomore Issa Sullivan said. "Hopefully we can get most of us to state this year because I think we can do it. We're doing really well so far."
Sullivan led the Wildcats at No. 1 singles, as she only dropped two games in her three matches. The sophomore standout earned 8-1 victories over Lansing's Trinity Hall and Heights' Kristen Hines before upending Leavenworth's Meredith Roberts, 8-0.
While Sullivan was disappointed that she didn't execute as well as she wanted to on some of her shots due to a combination of not playing much yet this season, the quadrangular did serve as a special competition for her.
"It's been fun. This is my first home match I've ever had, so I was kind of nervous when I first started because some of my friends were here," Sullivan said. "I'm playing some good players. It's fun."
Between Sullivan and Bailey Ramsdell, the Wildcats were undefeated in singles play. Ramsdell defeated Lansing Gracie Scheider, 8-1, and Heights' Kerigan Janke, 8-3. The De Soto No. 2 singles player then won by forfeit over Leavenworth's Kylie West.
De Soto's doubles teams both went 2-1 in the quad with wins over Lansing and Heights and a loss to Leavenworth.
Both of the victories for the No. 1 doubles tandem of Kelsey Heer and Josie Bedford came by the score of 8-3, as they defeated Lansing's Mirinda Lowery and Darby Mance and Heights' Miriam Lysaught and Clare Bindley. The De Soto seniors were able to win rallies by limiting errors. The lone setback for Heer and Bedford came in their final match in an 8-5 loss to Leavenworth's Alexis Cole and Samantha Casmus.
The strong serving of Raegan Ramsdell and quick hands at the net from Carly Bodenhausen helped the Wildcats post a 2-1 record at No. 2 doubles. Ramsdell and Bodenhausen defeated Lansing's Hannah Nine and Heather Short, 8-4, and Heights' Tatum Brown and Shelby Butterfield, 8-2, before falling to Leavenworth's Anna Wough and Corolann Perry, 8-4.
The Wildcats will try to continue their winning ways at the Mill Valley tournament on Saturday. Sullivan is eager for the opportunity to go up against some other talented singles players from the Shawnee area, such as Mill Valley freshmen Sophie Lecuru and Ellie Schaffer, St. James Academy freshman Gabby Taylor and Thunder senior Catherine Rieke.
"I know a few of the freshman that are there this year," Sullivan said. "I've played with one of them before in doubles (in club tennis) like a month ago, so it will be fun to see how they're doing."