Court discipline key for
SM

North volleyball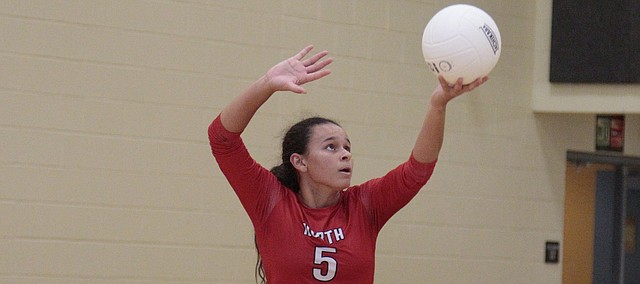 Overland Park — For the Shawnee Mission North volleyball team, the key to success is pretty simple — focus on what the team can do to get better and not who is playing on the other side of the net.
Shawnee Mission North coach Crystal Foss saw her team do just that on Monday in its first win of the season over Highland Park.
"We were executing plays, we were being discipline and taking care of our side of the game," Foss said of the 25-11, 25-8 victory over the Scots.
North split its triangular at Topeka High on Monday after falling to the host Trojans, 25-18, 25-22. The Indians had a quick and difficult turnaround on Tuesday when they returned to Sunflower League play against SM West. Foss' squad held its own in segments of each set, but the Indians fell to the Vikings, 25-9, 25-15, 25-7.
The Indians were able to sustain rallies and hang with the Vikings when they executed well in serve-receive, but struggled when they didn't.
"Once we can get a good pass, we seem to do well as far as setting the ball and figuring out where we want to put it," Foss said. "But if we can't get ourselves a good pass, we just don't do a very good job of converting."
Chanelle Boldridge was one of the top performers across the board for the Indians. Boldridge recorded one the Indians' four aces, and also was one of the leaders for SM North in kills and digs as a six-rotation player. Noel Rivera helped Boldridge pace the Indians offensively with a couple of kills in the first two sets.
Next up for the Indians will be another out-of-league match against Washington on Monday.
"Again, it will start with us," Foss said. "If we can execute, then we'll be successful. But if we can't execute, we can't play."