Shawnee Mission Park to feature inclusive playground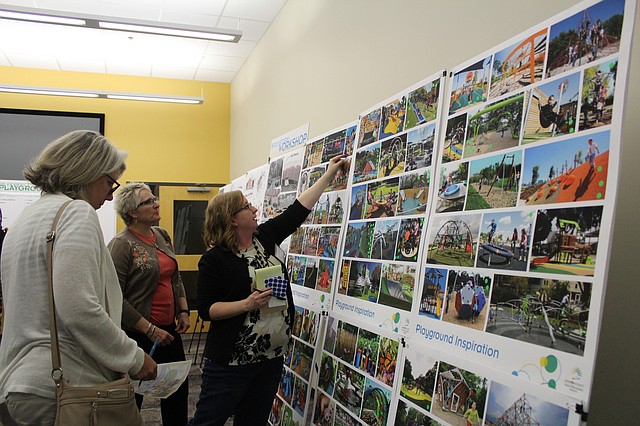 Across the nation, inclusive playgrounds enable children to play together without physical or social barriers.
And now, two more of those playgrounds will be in Johnson County.
This fall, the Johnson County Park and Recreation District is building an inclusive playground in Shawnee Mission Park, as well as one in the southern part of the county at Stilwell Community Park.
During an open house at the JCPRD administration building last Wednesday evening, residents were given a sneak peek at the playground plans and ideas, plus offered a chance to provide feedback.
Plans revealed the inclusive playground at Shawnee Mission park will be located southwest of the administration building, off 80th Terrace.
Ideas for the Shawnee Mission playground include a chalk area, a sensory walk, a ribbon path and toddler multiplay. It may also feature a thrill hill, spinning and motion playground equipment and a future zipline.
Shawnee Mission Park was chosen as one of the two spots for the inclusive playgrounds because it receives around 2.4 million visitors per year, plus there is ample parking, mature trees and space for a future inclusive softball field.
The Stilwell playground will include some similar features.
In addition to the new playground equipment and activities, restrooms at both playgrounds will be larger than normal, to give plenty of space for those with physical disabilities.
"This is about going beyond ADA compliance and creating an environment all people can enjoy, whether they have a disability or not," said Jeff Stewart, JCPRD Deputy Director of Parks and Recreation. "It's incredibly exciting to offer it and I feel like the community has really embraced the idea here and in Stillwell."
To make sure the playground designs reflected community needs, JCPRD organized a steering committee for the project.
The committee is made up of a wide range of Johnson County stakeholders, including parents, faith-based institutions, advocacy groups, public institutions and agencies, community organizations and JCPRD officials and staff.
The group gathered for the first time in early August as part of a two-day intensive design workshop led by a Vireo, Kansas City landscape architecture, planning and design consultant firm.
The workshop agenda included two steering committee meetings, during which the participants brainstormed opportunities and challenges with the design team.
They identified goals to achieve, issues to remember and other factors to consider for the playground concepts.
They also discussed preferred play experiences, surfaces, materials, equipment and more.
At the end of the workshop, the design team presented initial concept plans for each park based on research, conversations with stakeholder groups and the committee's feedback.
Construction on both playgrounds is expected to begin later this year, with both playgrounds opening next summer.