Mill Valley tennis wins Jaguar Invitational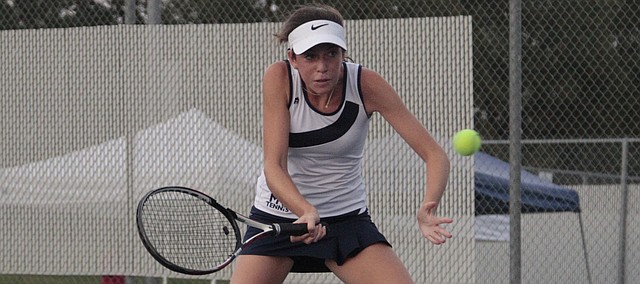 After four pool play matches and two rain delays, Mill Valley's No. 2 doubles team of Peyton Moeder and Josie Carey had already endured quite a long day entering their championship match against St. Thomas Aquinas' Abby Brown and Bridget Hanrahan at Jaguar Invitational on Saturday at MVHS.
The No. 2 doubles championship was the final match of the tournament as the sun was setting and the stadium lights were turning on, and there was much more than just a victory over the Saints riding on the line for Moeder and Carey. After Moeder and Carey outlasted Brown and Hanrahan, 8-7 (7-3) in a tiebreaker, Mill Valley coach Nichole Gurwell broke the news to her team that the No. 2 doubles match secured the Jaguars first place at their home invitational for what she believed was the first time in school history.
"You won it outright. There was no tie with St. James," Gurwell said of the Thunder, who finished second to Mill Valley by one point. "There was no technicality — you guys won it. That is awesome."
After Moeder and Carey went into the tiebreaker with the Brown and Hanrahan, the Jaguars built a 6-0 lead to force reach match point. The Saints made the Jaguars work for each one of them, as Moeder roamed the baseline just like she does as a center fielder for the Mill Valley softball team to hit some difficult return shots. Brown and Hanrahan mounted a three-point rally, but the Jaguars' advantage was too big for them to overcome in the first-to-seven, win-by-two tiebreaker.
Moeder and Carey also won a tiebreaker over Spring Hill's Izzy Williams and Emily Pope, 8-7 (9-7), to help them go 4-0 in pool play. While Moeder and Carey put the icing on the cake with their win in the championship, it was a team effort for the Jaguars to earn the team title. Mill Valley No. 1 singles player Sophie Lecuru and the Jaguars No. 1 doubles team of Anika Roy and Ellie Schaffer both claimed second place after going 4-0 in pool play and falling in their respective championship matches. Madison Van Buehler went 3-1 in pool play before dropping her third place match in No. 2 singles to round out the competitors for the Jaguars.
Lecuru had a thrilling tiebreaker of her own in the No. 1 singles title match against De Soto sophomore Issa Sullivan. The Mill Valley sophomore came into the championship match fresh compared to Sullivan. Lecuru didn't drop a game in pool play, while Sullivan had to upend St. James senior and 2016 state runner-up to reach the title match.
Lecuru, who has played with Sullivan in doubles in a few recent club tournaments, surged out to a 4-1 lead with the help of her powerful ground strokes.
"I think they were doing well," Lecuru said of her ground strokes. "In my other matches, I was just trying to focus on making those in and hitting them deep."
Sullivan was able to get locked in with her serve for a crucial hold to cut the deficit to 4-2. The De Soto sophomore recorded two aces in the game, which helped give her some confidence to get back in it.
"It really pumped me up because it was just a relief that I didn't have to play a long point again because I had a lot of long matches," Sullivan said.
The momentum continued to swing in Sullivan's direction as she got a break of her own and then got another hold to tie it up at 4-4. After Lecuru and Sullivan both held serve, the score moved to 5-5 to further build the intensity of each point.
Lecuru then opened the door for Sullivan by trailing 0-40 in the 11th game, but won back-to-back points to get back in it. Sullivan earned the break, though, when she finished off the game with an overhead slam to take her first lead at 6-5.
With fatigue setting in for both players, holding serve was not longer a lock. Sullivan found herself in a 15-40 hole, but dug deep win the next point to pull within 30-40. She followed it up with a rare double-fault, though, to allow Lecuru to tie it back up at 6-6.
Lecuru came out on top of a back-and-forth game to take a 7-6 advantage, but Sullivan easily held serve to force the tiebreaker. The Mill Valley freshman jumped out to a 5-3 lead in the tiebreaker before Sullivan rallied to win five of the next six points to take the match.
Between the showdown with Lecuru, the 8-4 victory over Rieke and a loss to two-time defending Class 4A state champion Brooklyn Hunter last week at the Baldwin tournament, Sullivan has enjoyed going up against some stiff competition.
"It's been really valuable because preparing for state is sometimes hard," Sullivan said. "I didn't have a lot of matches at the beginning of the season. A lot of this tough competition is going to get me ready."
Sullivan led the Wildcats to fourth place. De Soto's No. 1 and 2 doubles teams of Kelsey Heer/Josie Bedford and Raegan Ramsdell/Carly Bodenhausen and No. 2 singles player Bailey Ramsdell all went 2-2.
"I thought we did really good. We had a lot of close matches," Sullivan said. "I thought a lot of us fought really well. We played some good competition, but we all got better."
The only teams to finish ahead of the Wildcats were Mill Valley, St. James and St. Thomas Aquinas. Although the Thunder came up just short of winning the team title, they did come away with individual champions in No. 2 singles player Gabi Taylor and the No. 1 doubles tandem of Meredith Bierbaum and Tara Devine.
Taylor continued her stellar freshman campaign by only dropping three games throughout her five matches. The St. James No. 2 singles player defeated Bishop Miege's Grace Lang, 8-1, in the championship match.
Bierbaum and Devine also posted a perfect 4-0 record in pool play to reach the championship match against Roy and Schaffer. Devine and Bierbaum coasted to an 8-1 win over the Mill Valley No. 1 doubles team.
"It went really well," Bierbaum said. "It was our best match of the day. It was really nice to come out strong against Mill Valley. They have a good doubles team, so it was nice to see that."
Devine added, "We were very confident and big at the net, so that was really good for us. It was good to see that we know we have that in us."
While the score wasn't close, Devine and Bierbaum both acknowledged that it was another difficult match to wrap up a rugged portion of the Thunder's schedule. Prior to the Jaguar Invitational, St. James won the Salina Central tournament on Sept. 9 and the Arkansas City tournament on Thursday.
"It was crazy. We won the Salina one, but more surprisingly was the Ark City one because we won by two points," Bierbaum said as she shared a laugh with Devine. "We won by two points, which made us so happy because we didn't even play our best that tournament. We all said we could play better."
Although Rieke was just a match away from joining Taylor, Bierbaum and Devine in the championship matches, she bounced back to take third place in No. 1 singles with an 8-1 win over Pittsburg's Nicole Konopelko. The Thunder's No. 2 doubles team of Annie Caldwell and Kaley Coffman also went 3-1 in pool play and upended Williams and Pope by the score of 8-1 in the third-place match.
Maranatha's Mattie Schoenfeld (No. 1 singles), Alayna Marmon/Emma Prowell (No. 1 doubles) and Allison Dighton/Briana Adcock (No. 2 doubles) all represented the Eagles in the tournament. Marmon and Prowell had the match of the tournament for the Eagles to round out pool play, but came up just short in an 8-6 loss to Skyler Ochoa and Gabbie Chavez of Bonner Springs.