Automotive Advisors: How to find and select a car club that works for you
Every day, we trust our vehicles to get us from point A to point B and to do so safely.
We also try to do all we can to keep our cars running well, scheduling routine and seasonal maintenance, and paying close attention to check-engine and tire-pressure lights and the like.
But sometimes, despite all our efforts, life happens—you get a flat tire, your engine won't start or you lock your keys in your car. These are inconvenient and often stressful situations when you're zipping around Shawnee to work, school, sporting events and more, but especially so when you're not in Kansas anymore.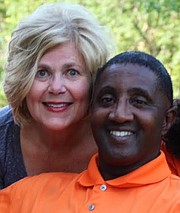 Auto club memberships are beneficial to have in place whenever life happens.
In the same way airbags and seat belts give you that extra layer of protection when something goes wrong, car clubs create peace of mind and give you a hand when you need it most. From towing to locksmith services, these companies show up wherever you are and work to get you back on the road as quickly as possible.
Depending on your needs, they also provide additional services, such as arranging alternative transportation or finding lodging with discounts.
In addition, car clubs can connect you to service providers you can trust.
For example, some, like AAA, will direct you to AAA-certified mechanics that meet their regulations and standards, while others will reimburse you if the repairs you got on the road need to be revisited and redone within the next six months.
There are four different types of auto clubs—those available through auto insurance, cell phone providers, car manufacturers and full-coverage providers.
Picking the right club for you can be a little overwhelming—and, like Goldilocks, you'll want to avoid coverage that's too big or too small and go with something that's just right and aligns with your driving habits.
Here's a closer look at the options:
Insurance: Roadside assistance coverage may be available to you through the same company that provides your auto insurance.
A small monthly fee on top of your normal payment usually covers the basics of roadside assistance like towing services, flat tires and locksmith services.
If your insurance doesn't offer this type of expanded coverage, you can sign up for it through another insurance provider.
It's important to note that these services may only apply to the specific vehicle or the specific person covered by your insurance plan, which means if your neighbor borrows your car and gets a flat tire, you (and they) may be out of luck.
In addition, some plans only provide service within a certain mile radius of your home. As a result, this option might not be ideal if you frequently find yourself off-roading in far-flung places. However, if you are a one-car family that usually stays within the city limits, this might be a perfect option.
Cell phone providers: Most major cell phone providers offer roadside assistance programs.
For only a few dollars on top of your monthly fee, you can get the essentials of roadside assistance, e.g., battery assistance, locksmiths and towing.
These plans follow whoever has the cell phone, allowing you to cover more people and vehicles under your plan—so long as you have the phone with you and make the call for help from your phone.
As with auto clubs through insurance companies, you'll want to inquire about location-related limits around coverage.
Some providers will only guarantee service of up to 10 miles of free towing—requiring you to pay out of pocket for every additional mile.
If you seldom veer off the beaten path, this may be a great choice.
Or, if you are always on the move but always have your phone in hand or by your side, this can still be a winsome solution.
Manufacturers: If your car is still under warranty, you may already have roadside assistance available to you—with fuel delivery, winching and jump starts already at your fingertips.
That said, warranties and services vary by dealer.
Some, like Honda and Mercedes-Benz, provide coverage beyond the basics, such as finding you alternative transportation and lodging.
If you're not sure where to begin looking, checking in with your auto manufacturer would be a good place to start.
Full coverage: The most well-known types of auto clubs are those that offer full coverage like AAA, OnStar or BP. These motor clubs tend to go above and beyond the basics of emergency roadside assistance, covering multiple drivers, vehicles and even RVs.
In addition, their membership programs boast various bells and whistles, such as trip insurance, security options, navigation assistance and even travel-related discounts.
In short, these clubs extend the most extensive and expensive coverage.
But if you are someone who takes to the open road often or have a fleet of vehicles, these full-coverage providers may ultimately be worth the investment.
These motor clubs are pretty diverse and specialized, so if you have a mix of vehicles, a multitude of drivers or specific requirements around payment options, you're sure to find a motor club that fits your needs.
All told, auto clubs are another measure to keep you safe and secure as you drive across town and through life.
Whether you're traveling five or 500 miles on your own or in the company of family and friends, there's likely an auto club that would make a good companion for every mile along your journey this fall and beyond.
-Scott and Tammie Green own Christian Brothers Automotive, 22240 Midland Dr.
More like this story