Shawnee Chamber holds joint ribbon-cutting for two businesses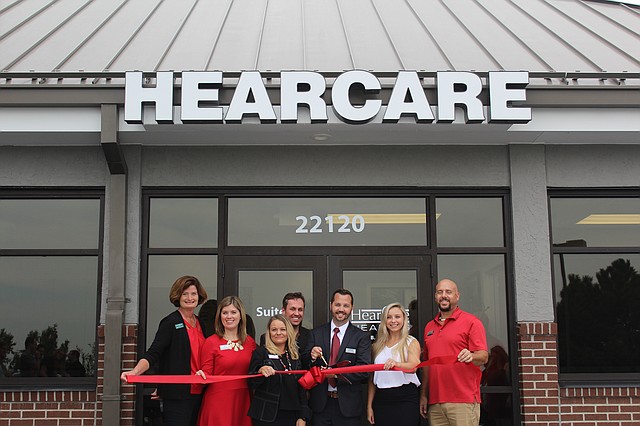 It was a two-for-one kind of party.
The Shawnee Chamber of Commerce celebrated two businesses with a rare joint ribbon-cutting ceremony on Friday afternoon.
Neighboring clinics HearCare Hearing and F.I.T. Muscle & Joint Clinic, both at 22120 Midland Dr, recently opened their doors in western Shawnee.
Employees, city officials and patrons kicked off festivities at HearCare, with light refreshments, before ending the party at F.I.T with champagne and barbecue.
Both businesses already have ties to the Shawnee community.
Tanner Beam, owner of HearCare Hearing, previously worked at another clinic in Shawnee for seven years, before following his dream by opening up his own practice.
The Shawnee resident is excited to continue doing what he's passionate about in a town he loves.
His practice is based on educating patients on their individual hearing loss.
He points out that nearly 50 million Americans suffer from hearing loss.
His clinic provides complimentary hearing evaluations.
"The more patients understand about their symptoms and effects of hearing loss, the better educated decision we can make together to provide effective treatment for many years ahead," Beam told the Dispatch.
For F.I.T Muscle & Joint Clinic, the ribbon-cutting was a second welcoming to town.
The clinic originally opened by the western Shawnee Price Chopper in 2012, but recently outgrew its space.
Its new location is twice the size, which will give the clinic room to grow.
"Shawnee has a small town feel and a lot of our patients have become our friends," said co-owner Chad Barnes. "We're a family."
F.I.T., which provides chiropractic and physical therapy services, also has two more locations in Lee's Summit and Overland Park. Another location in downtown Kansas City, Mo. is scheduled to open soon as well.
Shawnee City Council President Brandon Kenig, who oversaw the ribbon-cuttings in the mayor's absence, told the Dispatch he is thrilled more businesses are showing an interest in the western part of town.
"We're excited about their investment in Shawnee," he said. "They're eager to be a part of this community and their passion is there. Small businesses are the backbone of this city."