Police: Man shot while trying to sell item early Thursday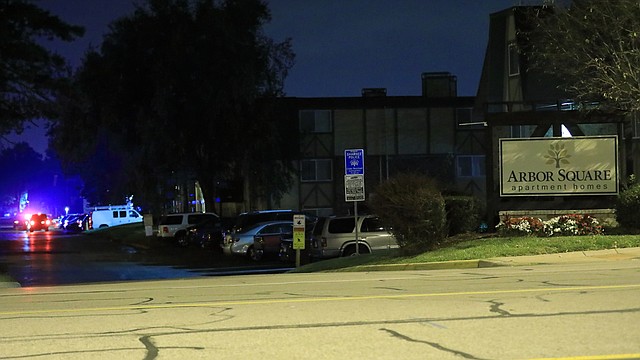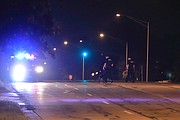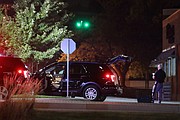 Shawnee Police continue to investigate after a man was shot while trying to sell an item at the Arbor Square Apartments early Thursday morning.
Officers were called to an apartment building at 7612 King Street at 12:33 a.m.
Recorded radio traffic indicates multiple people had called 911 reporting the sounds of a gun being fired inside the building. At least one caller reported that a person had been shot.
In a news release, Sergeant Tom Lynch of the Shawnee Police Department says the victim had contacted someone to sell an item.
"When the victim exited his apartment he was confronted by two black male suspects," Lynch said in the release. "A struggle ensued, and one suspect, armed with a handgun, then shot the victim."
Officers from Shawnee, Lenexa, and Merriam setup a large perimeter in the surrounding area and at least two canine units were used to attempt to track the suspects. Sgt. Lynch says the canine track led officers west.
"The track ended a short distance from the scene," Lynch said. "No suspects were located."
The Lenexa Police Department deployed a drone to assist with the search through at least two apartment complexes.
Sgt. Lynch confirmed the victim was transported to Overland Park Regional Medical Center.
The shooting victim was released from the hospital on Friday.
As of Monday, Major Dan Tennis says police are still working several leads.
"No arrests have been made, and we don't have any suspect information to release," Tennis said.
Shawnee detectives, with the assistance of the Jonson County Sheriff's Office Crime Lab, are investigating the incident.
Anyone with information regarding this incident can contact Shawnee Police at 913-631-2150 or the TIPS Hotline at 816-474-8477.
---
Operation 100 News provides overnight news coverage for the Shawnee Dispatch. Follow on Twitter for real-time updates.