Development team eyes potential at Westbrooke Village shopping site
Emerging details suggest mixed use concept, residents express concern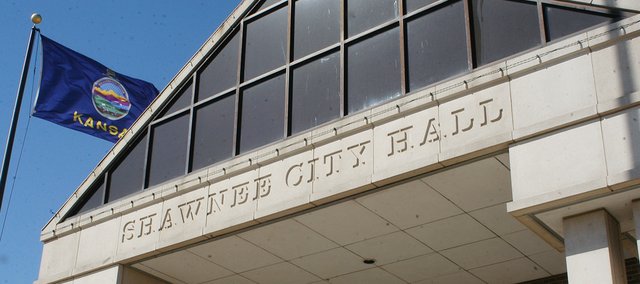 A mixed use center, featuring retail, restaurants and residential, may be in the works for the northeast corner of 75th Street and Quivira Road, where the nearly-vacant Westbrooke Village Shopping Center now stands.
The proposed project, which is in the preliminary stage, could include 101,300 square-feet of retail and restaurant, with 508 residential units, along with a parking structure and underground parking.
Developers for the project are eyeing financial public incentives, such as a TIF and CID for the project.
At its city council meeting on Sept. 11, the governing body approved a funding agreement with developers at MP Westbrooke North, LLC, to allow the group to work through the TIF process and analyze what could be done with the area.
The $20,000 funding agreement, which the developer expensed, is not an approval of incentives or promise of them, it is just an opportunity for the development team to explore its options.
Although the council approved the funding agreement, the item was not addressed without controversy at the meeting.
Concerned residents spoke out during the public comment portion of the meeting, worried about the size of the project, the harm of adding more apartments to the Shawnee landscape and a potential increase in crime.
One of those residents was William Service, who told the council he was not against the project, but he wanted there to be a stipulation that the apartments not be low-quality.
He also wants there to be exclusions for gun shops, tattoo parlors, loan centers, discount cigarette operations and abortion clinics.
Lastly, he told the council he does not want to see similar financial incentives, such as the $19.5 million package recently approved for the Bellmont Promenade project near Shawnee Mission Parkway and Maurer Road, to be handed out.
"Don't let any developer in the future balance their budget on the residents of the city of Shawnee," Service told the council.
Also taking the podium was resident Susan Ruiz, who lives directly behind the dilapidated shopping center.
"We don't need more apartment complexes around the neighborhood," she said. "There are enough."
She also emphasized she was worried about the project creating loud noise.
Another Shawnee resident, Ray Erlichman, told the council he would like to see something nice be done to the corner, but he is concerned about the potential size of the buildings, as mixed-use development could bring the possibility of four-to-six story complexes.
Curtis Holland, the attorney representing MP Westbrooke North LLC, told the council the project was still in the beginning stages.
"The developer is interested in seeing the possibility of what could occur there," he pointed out. "I don't know how many units are going to end up being there. I don't know how they're going to be built or how many stories are going to be built yet. All those plans will be discussed thoroughly."
He added the developer plans to work with the surrounding community on their concerns to put the best project forth at that location.
"Doing nothing doesn't seem to be what the community wants to do and we don't want to have that continue to fall into disrepair and continue to have negative impacts," Holland said. "Our goal is to try and improve the area"
Most of the council members agreed they were interested to see what the development team would concoct.
Councilwoman Stephanie Meyer said she supported the funding agreement because she saw it as a risk-free opportunity to look at a proposal for that location.
Plus, she thinks it's too early for anyone to be against the project, since the details are unknown.
Councilman Mickey Sandifer agreed.
As an elected official who has heard concerns about the rundown property for years, he wants to make sure something nice goes there.
But it may have to be done a certain way, he pointed out.
"We're not going to get that piece of property developed by any developer without incentives," Sandifer said. "Not going to happen. You really want to think about a run-down piece of property, don't offer any incentives and it will stay run down for a long time and probably get a lot worse, and that's not good for our city.
"The majority of the people I've talked to about this piece of property are willing to take a risk to try and figure out what we can do to with it that's going to better the city of Shawnee.
"I have been outspoken for many years against apartments. I think we have enough. I don't like them. But if there's ever a place in this city to put an apartment, it's on a corner that already has the other ones."
Councilman Eric Jenkins said he was OK with the developer analyzing what could be done to the area and evaluating possible incentives, but he isn't a big supporter of public financing.
"We just discussed a project that gained a number of major incentives from the city of Shawnee," he said. "I opposed that and if the package that were to come out of this analysis were similar to that one where we were giving the entire candy store away to the developer with everything that exists in our incentive kit, I'm pretty much on record as opposing that. It's going to get really hard to get my vote moving forward."
Before the vote, Shawnee Mayor Michelle Distler gave her two cents.
She emphasized the council does not wish to increase crime in that area or do anything which will be detrimental to Shawnee home property values.
She even pointed out that she lives near the shopping center herself.
"I'm your neighbor," she said.
For years, as an elected official, she has constantly heard concerns from Shawnee residents who are tired of the shopping center, which they regard as an eyesore.
"The current state is what's hurting your property," Distler said. "Going forward, we are going to take all your concerns into consideration because they're our concerns as well."
Once the evaluation is completed, the development group will come before the city council at a future meeting with more details on its project and a possible request for incentives.
Planning Commission update
At its meeting on Oct. 16, the Planning Commission will hold a public hearing in consideration of amending the city's Land Use Guide Map to create two additional designations for mixed use development.
The first would be for the northeast corner of 75th Street and Quivira, where Westrbooke Village Shopping Center now stands, to be designated from commercial to mixed use/destination.
The second would be for the northeast corner of Shawnee Mission Parkway and K-7 Highway, from commercial and office to mixed use/destination.
The meeting is set to begin at 7:30 p.m. at Shawnee City Hall.