Down to earth: Sprucing things up for the fall season
Fall is definitely in the air. You can feel it in the warm sunny days and cool nights.
You can hear it in the whir of cicadas that starts up before noon and in the buzzing of bees, busily collecting nectar and pollen from late-blooming flowers to feed their colonies through the winter. Butterflies, too - monarchs, swallowtails, buckeyes, and a multitude of painted ladies flit through golden light, feeding on lantana, zinnias and sedum to gather the nutrients that will sustain them during their long migrations.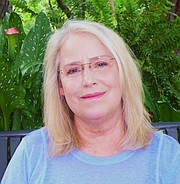 The August lily hostas are done blooming but what a glorious smell their creamy white flowers released during late afternoons and evenings a couple of weeks ago. Sweet autumn clematis, with its masses of star-shaped blooms, scented the air with a more subtle fragrance.
Annuals have emerged from their heat-induced dormancy to burst into bloom, putting on a final show of vibrant color before the first freeze. A large bed of impatiens in shades of coral and violet finally looks the way I imagined it would when I planted it last spring, and my potted plants look better than they have all summer.
Making the front of the house look good is important but it's something I do mostly for other people, for passersby. I do get to enjoy it when I come and go but I'd feel weird standing around admiring my front yard. The back yard is where I create a garden for myself.
Years ago, when my son outgrew his swing set, we sold it and replaced it with a flower bed that is situated below my second-floor kitchen window. This was so I could always have something beautiful to look at from a place where I spend a lot of time. It happens to be one the few areas in the yard that gets full sun. It has been my goal always to have something blooming there throughout the growing season.
But this year the perennials I count on to provide late-summer color have failed to do their job. Heavy rain in late August dealt the fatal blow to the tall obedient plants whose shallow roots heaved up out of the ground, and the stalks fell over. The black-eyed Susan didn't like the rain, either; they withered and died back. Autumn joy sedum is blooming but house finches have nipped at it all summer, leaving it in tatters. This bed was in desperate need of some sprucing up.
After I cleared away the casualties there were bald patches and very little color, except for mounds of melampodium, which had taken over the front of the bed. Melampodium has small yellow daisy-like blooms on a bushy plant. It is an annual that aggressively self-seeds and performs well at the end of the summer when not much else is blooming. The drawback is that it grows so fast it overtakes and crowds out anything near it — other annuals and smaller perennials — so it has to be kept in check.
I wanted more variety so I decided to plant a flat of pansies. I chose yellow and wine, purple and cream and placed them front and center, where I expect them to bloom until it freezes. My purple asters had suffered from too much rain so I replaced them with new plants that are just starting to bloom. After I add a couple of white pumpkins to fill in other bare spots I think I'll be happy with the face lift I have given this spot.
We planted a fall crop of lettuce — a sweet mild mix and a spicy one with arugula and mizuna, and if the tomatoes last until we can harvest it, we'll have the makings for home-grown, organic salads. I got flat-leaf parsley, cilantro and sweet basil which I planted in pots to replace what fizzled out in my herb bed. I'll be able to bring the pots inside on frosty nights. Greek oregano got replaced as well, as did sage — another victim of too much rain.
There are more tasks I need to get to while the weather is still warm and before the leaves fall. Then there will be a whole other list of jobs to complete before winter sets in. For now, though, there are still plenty of beautiful days to enjoy in the garden. Go buy yourself some pansies.
-Janet Rossbach is the co-vice president of the Garden Club of Shawnee