Shawnee firefighters help assist Hurricane Harvey victims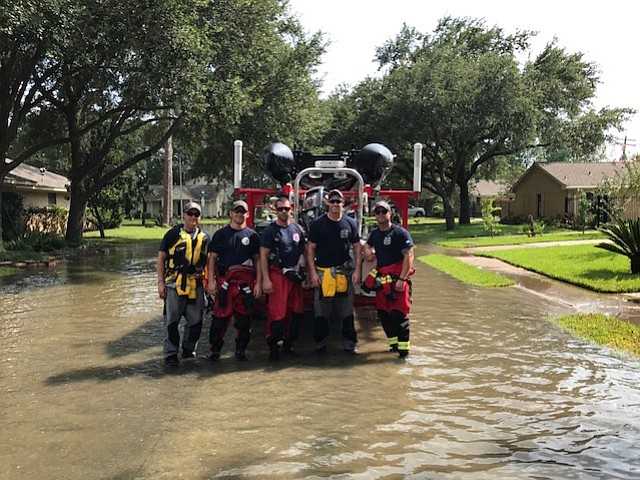 Shawnee Fire Captain Josh Chaney has seen a lot on the job, but nothing prepared him for the devastation he witnessed in south Texas earlier this month.
On Labor Day, Chaney was one of five members of the Shawnee Fire Department's water rescue team who joined the Kansas Task Force to assist Hurricane Harvey victims.
Around 70 firefighters from Kansas deployed to the Houston area; the Shawnee firefighters were the only ones from Johnson County.
The Shawnee firemen drove down to Texas with two boats, a pickup truck and a massive trailer which carried supplies, such as bottled water, food and cots.
The trailer was also their living quarters during the entire trip.
"It was kind of cramped, but we were lucky to have air conditioning," said Chaney, who is the leader of the water rescue team.
While down there, the first-responders spent a grueling 12-hour day where they joined forces with other firefighters from around the country to go door-to-door at every residence in various Houston neighborhoods, to assist people in need and encourage residents to evacuate.
During that time, they checked 600 homes and assisted with 23 evacuations.
"In some areas the water was up to the roof of a house, in other areas, it was just up to the doorstep," Chaney said.
He recalls one neighborhood, filled with mansions, being particularly turbulent.
"The water was flowing so fast and rough, it really did make me nervous," he said. "It just reminds you there's all kind of danger still out there."
While floating down streets in a 14-foot inflatable rubber boat, the men were startled to see cars beneath them, completely submerged in water
"Other people were getting around in canoes," Chaney said. "It was amazing to see fences and stop signs underneath us."
There was also the caution of alligators and snakes, but thankfully the Shawnee team didn't come across such fearsome creatures.
Chaney said the experience was one he will never forget.
"Just seeing the smiles on people's faces while we helped them out was worth everything," he said. "A lot of them were thankful we were there and we were happy to be there. I'm thankful the city allowed us to go down there. We're lucky to have the resources to help people outside our city."
More like this story