Jack Attack: Petz powers St. James past Blue Valley; Farnsworth crowned homecoming king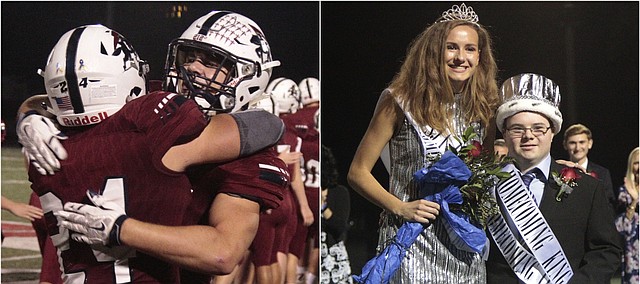 Roeland Park — As the St. James Academy football team entered a premier Eastern Kansas League matchup against Blue Valley on Friday night at Bishop Miege, the Thunder faithful were hopeful that a win against the Tigers would be in the cards to kick off their homecoming weekend.
St. James played a strong hand with a pair of Jacks, and Blue Valley couldn't beat it.
Senior running back Jack Petz scored a career-high five touchdowns, and Jack Farnsworth — who has Down syndrome and is the twin brother of St. James defensive tackle Nick Farnsworth — was crowned homecoming king as the Thunder jolted the Tigers, 35-28, to remain undefeated at 5-0.
"We're just happy for the guys right now and it's a good win on homecoming," St. James coach Tom Radke said. "You never know what's going to happen on homecoming. It's crazy to be 5-0 in EKL to be honest with you."
The Thunder stormed out to a 21-0 lead midway through the second quarter behind three touchdown runs from Petz, who carried the ball 31 times for 202 yards. Petz had a hard time summing up his emotions after the game, but he had no problems with hitting the holes created by the Thunder offensive line.
"It's pretty surreal, I guess," Petz said. "I don't know. It just feels great."
As Petz helped the Thunder set the tone with their ground-and-pound running game, the St. James defense keep Blue Valley's high-octane offense off the board until 2:36 mark of the second quarter. Eric Olson punched it in from 5 yards out, but the Thunder still took a 21-7 lead into the break.
While a majority of the team went into the locker room during the homecoming ceremony during halftime, Radke stayed on the field to watch Jack Farnsworth and three of his players — Parker Kelley, Joe Frank and Mason Dunsmore — be introduced as nominees for king. The St. James crowd went into a frenzy when Farnsworth was announced as the king, and so it the players in the locker room when Radke broke the news to them.
"It's so cool. I walked into the locker room and I said, 'Jack Farnsworth is king,' and the whole place erupted," Radke said. "Nick is his twin brother and he's our starting D-tackle. They're just a great family. Parker Kelley, he helps him out all day long. He's got a class that helps him out all day long, so that's like his right-hand man. It's just special."
Although the Thunder were thrilled that Farnsworth won, they still had to keep their emotions in check so they would also come out on top. Blue Valley received the kickoff to begin the second half and pulled back within seven with Alex Totta plunged in on a 1-yard run.
St. James stuck with its bread and butter, though, after the Tigers made it a one-score game and kept feeding Petz. The senior running back swung the momentum back to the Thunder with a 63-yard run to put St. James in the red zone, and then went on to score a couple of plays later.
"The O-line did a great job up front and then Jack being the back that he is, he's a hard runner who refuses to go down," Kelley said. "It was just a fun game with Jack Petz back there tonight."
The Tigers continued their aerial passing attack on the ensuing drive, but the Thunder secondary was still up for the challenge. A touchdown-saving pass breakup by Stratton Smeltzer with three minutes remaining in the third forced the Tigers to go for it on fourth and 10 from the St. James 23-yard line. Blue Valley quarterback Luke Bernard looked for a receiver in the end zone again on the next play, and found a wide open Cameron Green for the touchdown.
Bernard and fellow quarterback Walker Kinney started to develop a connection with Green in the second half, which helped keep the Tigers within striking distance. While the Thunder primarily ate up time off the clock with Petz, they should that they were able to be effective through the air as well when Luke Heller threw a 45-yard strike to Mikey Tujague on the final play of the third to give St. James the ball at the Blue Valley 1-yard line.
"We didn't want to throw the ball at all, but then we called the passing game and he makes plays. And Michael Tujague and Will Sharpton, the guys down the field just (are) making plays. The kid has a resilience," said Radke of Heller, who completed six of 12 passes for 123 yards. "Luke Heller, he's just a leader. He had a little swag about him going into this game. I don't know what it was, but he had a little extra juice and it showed here tonight."
Tujague — who hauled in five receptions for 124 yards — set the table for Petz' fifth and final score with 11:16 remaining. The St. James sophomore was able to take some of the load in the run game, too, to keep Petz fresh, but Tujague fumbled at the Thunder 37-yard line with 7:47 to play to give the Tigers good field position. Blue Valley wasted little time in capitalizing on the turnover, as Kinney connected with Green on the very next play to pull the Tigers within seven again at 35-28.
"We shouldn't have gave up two of those touchdowns, but they made plays, of course," Radke said. "We had some coverage breakdowns or else we could pull two scores off the board, but that's high school football."
The Thunder secondary locked in when it needed to, though. The Tigers got the ball back with 3:31 left on their own 29-yard line with the chance for a touchdown-tying drive. Joe Boone came through with a sack on 1st down to add more pressure on the Tigers, and the secondary and linebacking corps did the rest. Blue Valley went for the deep ball on 4th and 15, but Cole Barrett and Zack Rodina were there for the pass breakup to force a turnover on downs. Barrett and Jackson Diel both came up with interceptions to highlight the night defensively for the Thunder.
St. James will turn its attention to a rivalry matchup with St. Thomas Aquinas next week, but not before taking some time to celebrate homecoming and what Radke called "a program win" over Blue Valley. Along with being proud of his team, Radke was gracious for the student body for giving Farnsworth a weekend that he'll always remember.
Farnsworth will be going to the dance with St. James cheerleader, Bella DeBrevi, who also has Down syndrome. DeBrevi ran over to give her date a big hug after Farnsworth was named as the king, and was one of the first people to congratulate him.
"You did it!" DeBrevi said.
When asked about what he was looking forward to most about the homecoming dance, Farnsworth said he was looking forward to spending with DeBrevi and sharing a dance to a special song.
"Life is a highway," Farnsworth said of Tom Cochrane's well-known song.
Farnsworth was thrilled to be recognized by his peers, and was happy for homecoming queen Mary Goetz as well.
"I like being king," Farnsworth said. "I'm king with Mary."
The homecoming king is one of the biggest supporters of St. James football, and the Thunder were ecstatic to win for Farnsworth.
"That's who we played for. We kind of knew he was going to win it because everyone likes him," Nick Farnsworth said of his brother. "He's great kid. I love him."
St. James volleyball hosts successful Lemon Out
The St. James football team wasn't the only fall sports squad that was playing for a special cause this week. The Thunder volleyball team hosted their annual Lemon Out match on Thursday against Bishop Miege.
St. James won the match in straight sets, but according to sophomore libero Ellie Bolton, the victory wasn't the most exciting part of the night. More than $2,700 was raised for the Alex's Lemonade Stand Foundation, which is helps benefit pediatric cancer patients.

"It's fun because it draws more students out to come watch and it's nice having that additional support. It just brings so much energy to the environment," Bolton said. "It's just nice starting off with that so before the match you're a little bit more relaxed knowing that shanking a pass or missing a serve, like coach (Nancy) Dorsey says, is not the worst thing in the world compared to what these children are going through. It's an awesome event."
Bolton and her teammates were able to add to that total on Friday night before the football game as well. Ten percent of the proceeds of a food truck that was in the parking lot went to Alex's Lemonade Stand, and there were still raffle items being auctioned off.